'Riverdale' Preview: Who The Hell Are You, Ms. Grundy?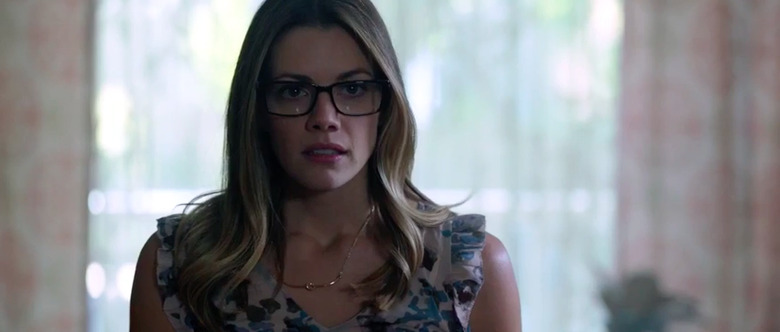 Riverdale is a town no one should ever want to visit. In this dreary, evil setting, the four leads — Archie, Betty, Veronica, and Jughead — know they can depend on each other, but they have to watch who else they choose to trust in The CW's adaptation of the Archie comics. One character not to be trusted, Ms. Grundy (Sarah Habel), reveals her dark past in this week's episode. The promo for episode four from season one teases the truth about Archie's music teacher — but it doesn't illustrate how much the show has improved since the pilot.
Below, watch the new Riverdale preview.
Ms. Grundy wants Archie to keep quiet about the summer day they spent together, the day everybody thought Jason Blossom died on. The truth almost came out of the bag, but unforeseen circumstances and Ms. Grundy's manipulation has kept Archie's lips sealed. This week, she may not be able to mask the truth any longer, as Archie and friends discover she's not who they thought she was.
Here's the promo for episode four of Riverdale, titled "The Last Picture Show":
During last week's episode, Archie's dad, played by Luke Perry, made a pretty good joke comparing Ms. Grundy to the teachers he grew up with. It was a funny, self-aware line about Riverdale's version of Ms. Grundy. She doesn't resemble the character from the comics like the real Ms. Grundy might.
Riverdale quickly found its footing after the premiere, which didn't set up the characters and town at the most natural pace. The last two episodes took actual time to explore real, relatable conflicts, especially for high school students. The show rarely feels like an afterschool special, and partially because the show is getting more entertaining, which makes its often thoughtful, well-meaning messages go down smoothly. It's a very enjoyable show about a close group of friends always there to help each other out when they stumble. Riverdale has its mysteries and cheeky fun, but it also has some believable friendships and sincere teen drama. So far, the characters, who are always having new problems thrown their way, are the main draw of The CW series.
Here's the official synopsis:
As a new school year begins, the town of Riverdale is reeling from the recent, tragic death of high school golden boy Jason Blossom — and nothing feels the same. Archie Andrews (KJ Apa) is still the all-American teen, but the summer's events made him realize that he wants to pursue a career in music and not follow in his dad's footsteps despite the sudden end of his forbidden relationship with Riverdale's young music teacher, Ms. Grundy (Sarah Habel). Now Archie has no one to mentor him, certainly not singer Josie McCoy (Ashleigh Murray), who is only focused on her band, the soon-to-be-world-famous Pussycats. It's all weighing heavily on Archie's mind — as is his fractured friendship with budding writer and fellow classmate Jughead Jones (Cole Sprouse).
Meanwhile, girl-next-door Betty Cooper (Lili Reinhart) is anxious to see her crush Archie after being away all summer, but she's not quite ready to reveal her true feelings to him. And Betty's nerves, which are hardly soothed by her overbearing mother Alice (Mädchen Amick), aren't the only thing holding her back. When a new student, Veronica Lodge (Camila Mendes), arrives in town from New York with her mother Hermione (Marisol Nichols), there's an undeniable spark between Veronica and Archie, even though Veronica doesn't want to risk her new friendship with Betty by making a play for Archie. And then there's Cheryl Blossom (Madelaine Petsch)... Riverdale's Queen Bee is happy to stir up trouble amongst Archie, Betty and Veronica, but Cheryl is keeping secrets of her own. What, exactly, is she hiding about the mysterious death of her twin brother, Jason? Riverdale may look like a quiet, sleepy town, but there are dangers in the shadows.
Riverdale airs on Thursdays on The CW.