Sam Worthington Promises 'Avatar 2' Is Gonna Be ''Like Nothing You've Ever Seen''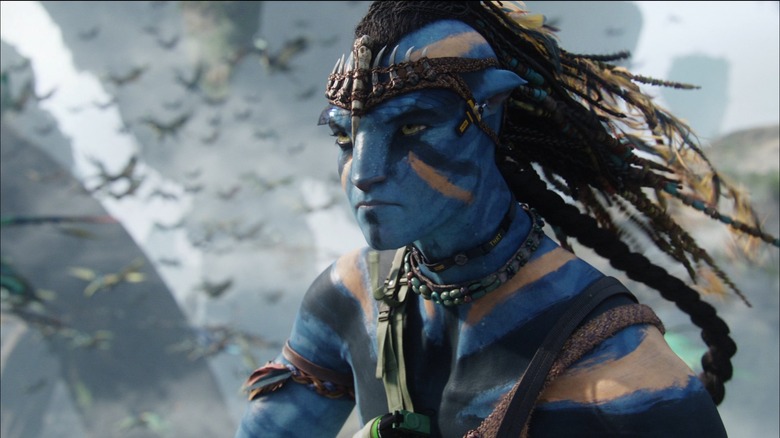 The four Avatar sequels turn Jake Sully (Sam Worthington) into a family man. Director James Cameron called the sequels "more of a family saga about the struggle with the humans." In Avatar 2, Sully and his family visit unexplored parts of Pandora, according to Sam Worthington.
The actor recently talked about that eight-year gap in the story and the current shooting schedule. Below, read what Worthington had to say about Sully's role in the first of the four Avatar sequels.
Months ago, we heard rumors suggesting Sully becomes the new chief of the tribe and marries Neytiri (Zoe Saldana), but their family is threatened by war with the humans. We'll see if that's the exact story Cameron tells, but he has previously stated we'll see Pandora's other environments. Cameron, who's no rookie when it comes to shooting underwater, is going to show the planet's oceans.
Sully may experience these new environments with his children. While the former soldier has been a part of Pandora for many years, it's still sometimes fresh and new to him. While promoting The Shack, Worthington told We Got This Covered Avatar 2 is bigger, as we'd expect, and is "going to be like nothing you've ever seen," but at the end of the day, it's about family:
They're going to be shooting concurrently. The plan is to have some time in between, I think, but these things are always ambiguous until they start. We're still set to start in the summer, though. James needed time to perfect the scripts. Whenever he says jump I go because he's the man. I've read all the scripts, they're great. This is going to be Jake eight years later, and he's got a family now.
This film is going to be like nothing you've ever seen. The world is bigger than the first one, but essentially, it's a movie about family. Jake will still have that essence of a kid seeing the world for the first time, but he's been living in the world for a while now, so what's this world he's seeing now for the first time? The film will explore that within this family dynamic.
Perhaps some personal growth will add a few more layers to Sully, who wasn't the most textured character in Cameron's film. There was enough there on the page to make him serviceable, but he's a relatively simple character exploring a rich and vast world. Hopefully in the sequel, now older and maybe wiser, Sully is a little more compelling. Plus, Worthing has grown as an actor  in the years since Avatar, with supporting roles and movies like The Keeping Room, The Debt, and Last Night, so perhaps he'll also help make Sully a more charismatic and compelling protagonist the second time around.
Avatar 2 opens in theaters December 21st, 2018. Avatar 3 comes out in 2020, Avatar 4 in 2022, and Avatar 5 arrives in 2023.