The Coen Brothers Are Polishing The 'Scarface' Remake Script; Peter Berg In The Running To Direct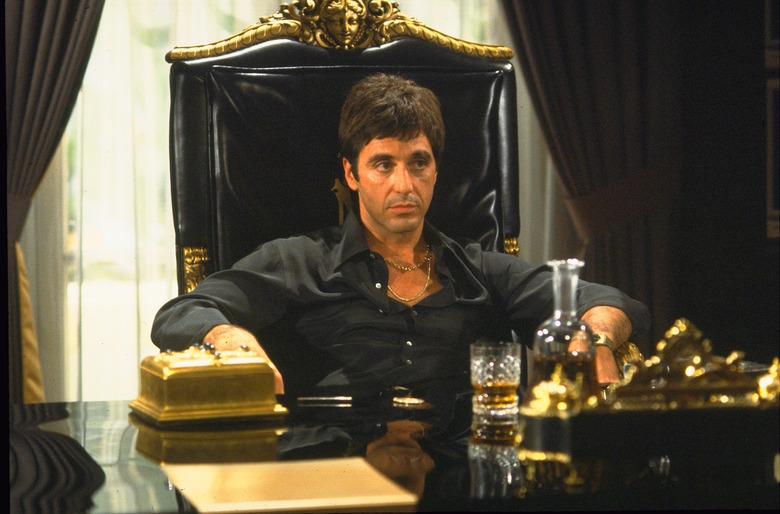 If there was one way to make the Scarface remake more compelling, hiring Joel and Ethan Coen to rewrite the script does the trick. The Universal project, which recently lost director Antoine Fuqua (The Equalizer), is getting a polish from the Coen Brothers, who've done some well-known rewrites throughout their careers. Sadly, they won't direct the Diego Luna-led remake, but Universal is considering Peter Berg (Patriots Day) and David Mackenzie (Hell or High Water) for the job.
Below, learn more about the Scarface remake.
Variety reports Joel and Ethan Coen are taking a crack at the script. The filmmakers have come in and worked on a variety of scripts over the years, including Unbroken, Bridge of Spies, Bad Santa, and Fun with Dick and Jane. They're not the first heavy hitters Universal has tapped to polish the script. A couple of months ago, Boardwalk Empire and Vinyl creator Terence Winter was hired to rewrite Jonathan Herman's (Straight Outta Compton) script.
Universal is close to locking down a new director for the remake, based on both Brian De Palma's 1983 film and the 1932 version produced by Howard Hughes. The producer of the De Palma's Scarface, Marty Bregman, is involved in the remake, which David Ayer (Fury) also once worked on as a screenwriter.
According to The Hollywood Reporter, Mackenzie and Berg are currently meeting with Univeral execs. Mackenzie is hot off of Hell or High Water, while Berg's most recent efforts, Deepwater Horizon and Patriots Day, didn't quite find the audience they deserved. THR mentions Fuqua left the director's chair to focus on The Equalizer sequel.
Mackenzie, who previously directed Perfect Sense and Starred Up, was interested in the remake last summer. This was before Hell or High Water came out and impressed most people, so Universal passed and went with Fuqua. With Mackenzie now fielding offers from studios all around town, he's now one of the frontrunners for Scarface along with Berg, who produced Hell or High Water. It's worth noting Berg has a past relationship with Universal, having directed Battleship and Lone Survivor for them.
The new version of Scarface is set in Los Angeles and focus on a Mexican immigrant. When Fuqua was going to direct the remake, he was attracted to its relevancy. "The promise is that everyone gets a fair shot, but that's not always the case," he said. "So that's always relevant, and right now with what's happening in Mexico, which is where [the main character] comes from – he comes out of Mexico – that's relevant, especially when you've got people talking about putting up walls and other kinds of stuff. We're still dealing with immigration, we're still dealing with what would turn someone into Scarface."
Scarface is scheduled to open in theaters August 10th, 2018.