Michael C. Hall To Play JFK In 'The Crown' Season 2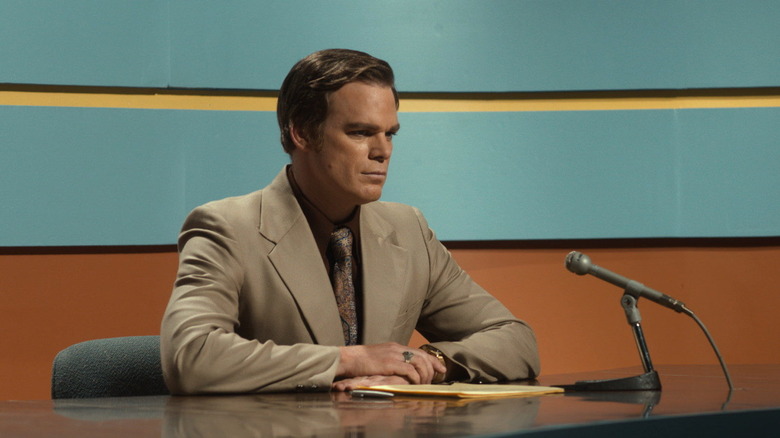 Literally dozens of actors have played John F. Kennedy onscreen over the past several decades. Just in the past year, we've seen Caspar Phillipson play him in Jackie and Jeffrey Donovan take on the role in LBJ. Now Michael C. Hall will join that ever-expanding list, playing the 35th U.S. president in the next season of Netflix's The Crown. Joining him will be Jodi Balfour as First Lady Jackie Kennedy, and Matthew Goode as Princess Margaret's husband Anthony Armstrong-Jones.
Deadline reported the news. Created by Peter Morgan (The Queen, Frost/Nixon), The Crown is a biographical drama about Queen Elizabeth II, played by Claire Foy. (If you're like me and bad at keeping track of British royalty, yes, she is the one who's still on the throne.)
The first season chronicled her life from her marriage to Prince Philip (Matt Smith) in 1947 through the end of her sister Margaret's engagement to Peter Townsend in 1955. The second season is expected to pick up with the Suez Crisis in 1956, with the British army fighting an illegal war in Egypt. It'll continue through the dawn of the '60s, and conclude with the resignation of Prime Minister Harold Macmillan in 1963. To put Kennedy's career in context, he was inaugurated in 1961 and assassinated in 1963, just a few weeks after Townsend stepped down.
The Crown's JFK is described as...
... a natural leader and excellent public speaker who does not take kindly to being upstaged by anyone, especially his wife. Although Jackie's accomplishments are perceived to be an asset to the president, JFK feels unmanned by his wife's popularity. In public, he seeks revenge by flaunting his many infidelities and, behind closed doors, his jealousy surfaces in the form of anger and manipulation.
It's not hard to see the thematic parallels between the Kennedy's rocky relationship and Elizabeth's own marriage to Philip, as depicted in season one. The show's version of Jackie, meanwhile, is a "seemingly natural First Lady" whose "charming exterior of confidence and glamor hides a shy woman who loathes public life." Rounding out this batch of casting is Goode as Armstrong-Jones, "a charming, passionate and avant-garde photographer who knows all the right people" and enjoys "bohemian and sexually liberal lifestyle." Basically, prepare for the 1960s to shake things up in a big way.
Shooting on The Crown season 2 is already underway. No premiere date has been announced.