'The Circle' Trailer: Emma Watson Is Being Watched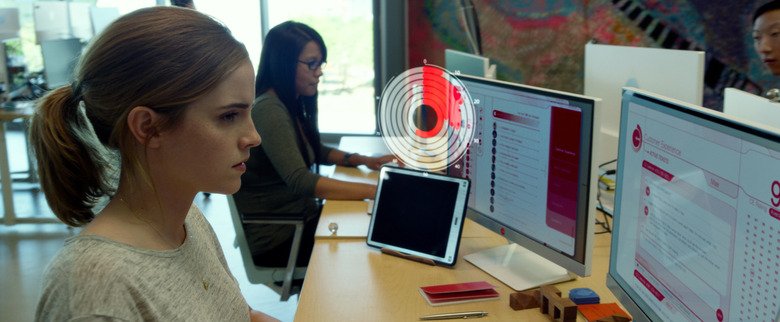 As evidenced by the popularity of Black Mirror, feeling uneasy about technology is just part and parcel of life in the developed world in 2017. Who among us hasn't felt a twinge of anxiety about where our Facebook photos or Twitter posts could end up, or worried that someone could be watching through our built-in laptop cameras? We fret a bit, and then we keep sharing and posting and liking things anyway. Because what else are you going to do? Just not be a part of modern society?
In The Circle, that stress gets taken to a whole other level when a bright young woman named Mae (Emma Watson) is hired by a powerful tech company that looks a bit like Google, Facebook, and Apple all rolled into one. At first, it seems like a warm and welcoming place with a tight-knit corporate culture — but pretty soon, she starts to see the true cost of ultimate transparency. Tom Hanks plays the company's founder, and John Boyega a mysterious colleague. Watch The Circle trailer below. 
The Circle Trailer
It's not often we see Tom Hanks get to play a villain — and to be sure, the trailer leaves it ambiguous just what he's up to. He could turn out to be a red herring in a story about some greater evil. But if he is indeed a bad guy in The Circle, what perfect casting. Hanks has built an entire career on playing warm, friendly, trustworthy leading men, and it's bound to be all the more disturbing when America's Nice Dad reveals a sinister side. Particularly since The Circle is being directed by James Ponsoldt, who's got a reputation for drawing out really great performances in films like Smashed, The Spectacular Now, and The End of the Tour. The Circle seems a bit out of his usual "intimate indie drama" wheelhouse, but it should be interesting to see what he cooks up.
The Circle is in theaters April 28.
The Circle is a gripping modern thriller, set in the not-too-distant future, starring Emma Watson ("Harry Potter"), Tom Hanks ("Sully") and John Boyega ("Star Wars: The Force Awakens"). When Mae (Emma Watson) is hired to work for the world's largest and most powerful tech & social media company, she sees it as an opportunity of a lifetime.  As she rises through the ranks, she is encouraged by the company's founder, Eamon Bailey (Tom Hanks), to engage in a groundbreaking experiment that pushes the boundaries of privacy, ethics and ultimately her personal freedom.  Her participation in the experiment, and every decision she makes begin to affect the lives and future of her friends, family and that of humanity.