Photos: Patricia Clarkson & Campbell Scott Join 'House Of Cards' Season 5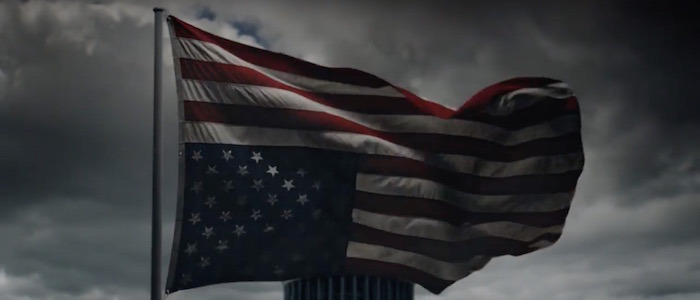 Netflix has released a bunch of teaser trailers and made a ton of announcements today, many of which we've already covered elsewhere on the site. One of the announcements is the casting of Oscar-nominated actress Patricia Clarkson (Green Mile, Pieces of April) and Campbell Scott (Big Night, Roger Dodger) in their hit political dramatic series House Of Cards. Learn more about their casting and see some House of Cards Season 5 photos, after the jump.
We don't know much about the story for the fifth season and Netflix hasn't even released information about Scott and Clarkson's new characters. But we can see from the photos above that Scott Campbell's character is meeting with Will Conway (Joel Kinnaman), the Republican Governor of New York and Nominee for President of the United States running against Frank, and Clarkson's character is meeting with first lady Claire Underwood in the White House. That should give us some clues as to which sides they might be on and how their characters will come into play this season. Both actors are great additions to the series.
Season four ended with Frank declaring that the nation is at total war, ordering the full force of the military be used to combat terror around the world, regardless the cost, and Claire breaking the fourth wall for the first time by looking into the camera alongside her husband. The series has gotten more and more ridiculous as it's gone on (but somehow today's real life politics seems to beat it), but I'm still loving it.
Kevin Spacey returns as the ruthless President of the United States Frank Underwood and Robin Wright as the powerful First Lady Claire Underwood. Replacing series showrunner Beau Willimon is Melissa James Gibson and Frank Pugliese. Netflix premiered a teaser trailer in January revealing the Summer release date featuring an upside-down American flag.
House of Cards returns May 30th, 2017 on Netflix streaming service.