'Snatched' Trailer: Amy Schumer And Goldie Hawn Get Taken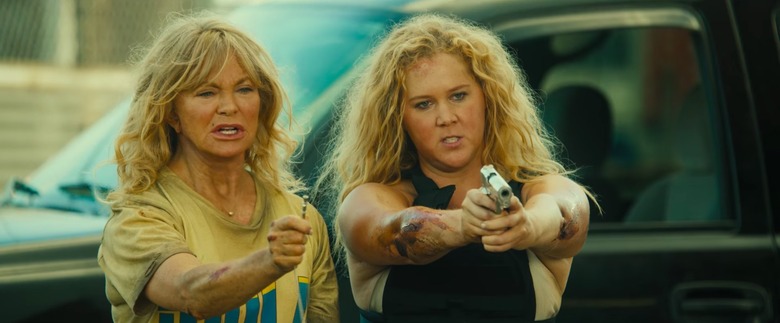 You might think that nothing could be more awkward and annoying than going on a vacation with your mom that you'd originally intended to take with your boyfriend. But in Snatched, things go from bad to so, so much worse when Emily (Amy Schumer) and Linda (Goldie Hawn) are kidnapped — snatched — during their trip. Still, it's not all terrible. Turns out all that peril provides the perfect opportunity for some serious mother-daughter bonding. Watch the Snatched trailer below. 
Snatched Trailer
Snatched looks more overtly comedic than a lot of director Jonathan Levine's past pictures, like 50/50 and The Night Before, which have tended more toward dramedy. But the mother-daughter relationship could provide a strong emotional undercurrent. The script comes from Parks and Recreation vet Katie Dippold, who also wrote Paul Feig's Ghostbusters and The Heat. Given this pedigree, it should come as no surprise that the supporting cast looks full of comedy stars including Wanda Sykes, Ike Barinholtz, Christopher Meloni, and Randall Park.
Speaking of that cast, it's worth pointing out that Snatched marks Hawn's first time on the big screen since 2002's The Banger Sisters. That's reason enough to be intrigued, but does it prove worthy of her return? The trailers so far have been more amusing than out-and-out funny, though I did laugh when Wanda Sykes said "somebody's missing." More troubling is the film's portrayal of South Americans as dangerous and criminal. Hopefully, the full-length feature is a little more nuanced and empathetic on that front than the trailers make it look.
Snatched is in theaters May 12.
After her boyfriend dumps her on the eve of their exotic vacation, impetuous dreamer Emily Middleton (Amy Schumer) persuades her ultra-cautious mother, Linda (Goldie Hawn) to travel with her to paradise. Polar opposites, Emily and Linda realize that working through their differences as mother and daughter – in unpredictable, hilarious fashion – is the only way to escape the wildly outrageous jungle adventure they have fallen into.