A Massive Indoor Drive-In Movie Theater Is Coming To Nashville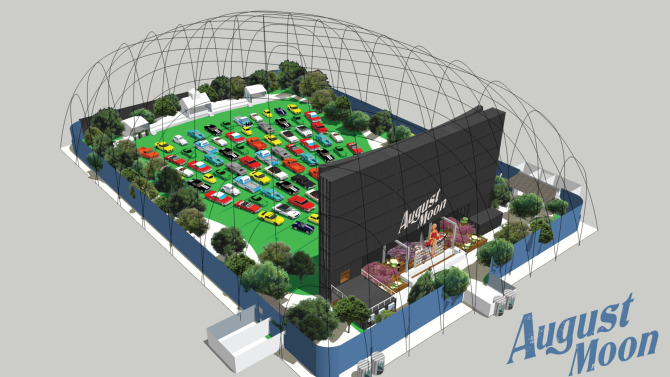 Nashville is a great city. If you're ever there for a weekend, there's plenty to do and see. And starting in the spring of 2018, you might be able to check out the August Moon indoor drive-in when you're there — which has modified classic cars to sit in, dining food, a bar, and even bleachers. Basically, it's a huge soundstage, with a bit of a show staged before and after a movie. Not all of the money is raised yet for the project, but it'll cost $10 million.
Below, learn more about Nashville's indoor drive-in.
The indoor drive-in attempts to replicate a 1960s American drive-in theater. But instead of being outside, breathing in the fresh air, feeling a cool summer breeze and seeing the stars in the sky, you (along with the cars and screen) are under a 40,000-square-foot dome, and you'll  see simulated fireflies, sunsets, and stars.
Michael Counts is the creator and designer behind the project. He's worked on a few theater events and interactive projects, including "The Walking Dead Experience." Creating the experience of August Moon involves burgers, shakes, and 18 screenings per week. Here's how Counts describes the 180-minute event, which accommodates 350 guests at a time:
Essentially we're building a soundstage. We're building a set as if you're going to shoot an outdoor scene in a movie, on an indoor stage.
The cost of attending the August Moon Drive-In ranges from $8 to $20. It all depends on seating location and other factors. It's $8 for admission and $13 for premium seating, but it's $20 if you want to sit in a car. There's no word on how much food and beverages cost. Taking the whole family out to August Moon probably won't make for a cheap outing, especially if your kids want a car — but they're clearly trying to make August Moon more than a night at the movies.
Attendees will have the choice to pay extra for a better seat. Signing up for membership brings perks, such as the ability to vote on programming choices. Variety writes their programming will be similar to the Alamo Drafthouse's, playing both new releases and classic movies.
August Moon is also going to have the largest non-IMAX movie screen in America. This part of the indoor drive-in plans is a bit vague, but apparently, the huge screen uses interactive billboard technology, allowing live performers to "engage audience members during previews and post-credits sequences." It sounds potentially disrespectful to the end credits, but again, it's unclear what that entirely entails.
The indoor drive-in will be massive. In addition to full bars, there will even be an area for live music before and after a show starts. If August Moon is a success, developers will start seeking opportunities in other states and overseas. Apparently, there's already some interested parties in China, but again, the project isn't completely funded yet. If the August Drive-In gets made, it'll be located by Nissan Stadium.