'Samurai Jack' Season 5 Trailer: The Warrior Is Back On March 11th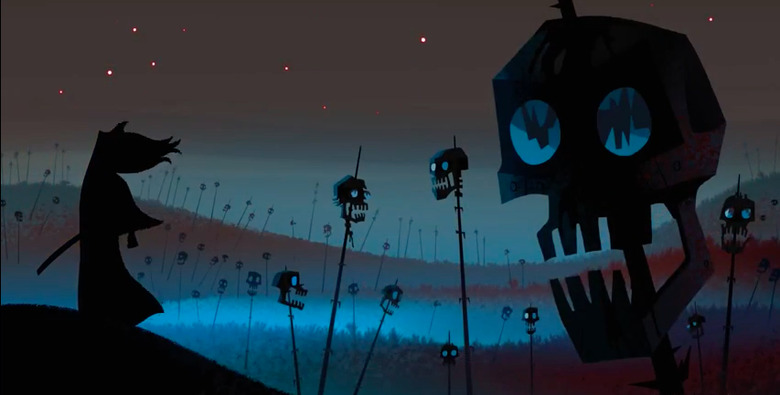 Genndy Tartakovsky (Hotel Transylvania) is returning to the world of Samurai Jack. The original series ran on Cartoon Network from 2001-2004 for a total of four seasons. Before the show was even finished, there was talk of a Samurai Jack movie, which continued for a few more years. That film adaptation never came to fruition, but Tartakovsky's beloved character is finally back on the small screen.
Below, watch the Samurai Jack season 5 trailer.
Created by Tartakovsky, the acclaimed animated series follows a legendary warrior (voiced by Phil LaMarr) banished to a dystopian future by the shape-shifting demon Aku, who destroyed the samurai's father's kingdom. Jack attempts to make his way back to the past, and it's a battle he's still fighting. The next ten episodes of Samurai Jack are set 50 years after the events of season four.
Here's the Samurai Jack season 5 trailer:
The animation looks as beautiful as ever. For a decade, Tartakovsky tired to finish Jack's story as a movie, but it was a long, challenging process. When he recently had some free time, he decided it'd be better to finish the story as a miniseries:
I think through the years, after we finished Jack, almost every year it seems like Samurai Jack has gotten more and more popular and more and more people have seen it. I feel like it's culminating to a fever pitch almost. I feel like it's time to maybe finish the story. We've been trying to get the feature off the ground but maybe that's just fate's way of saying this is a television thing and maybe it should be a mini-series or something like that.
Brett Ratner (Hercules) was attached to the movie at one point, while Tarsem (The Fall) wanted to direct it.
The season four finale of Samurai Jack and the new episodes have little connection, according to Tartakovsky. If you haven't seen the last episode of the series, you won't be too confused by the new episodes. With the move from Cartoon Network to Adult Swim, the series is now a little darker and perhaps bloodier, but it's still kid-friendly.
Here's the official synopsis:
It's been 50 years since we saw Samurai Jack and time has not been kind to him. Aku has destroyed every time portal and Jack has stopped aging, a side effect of time travel. It seems he is cursed to just roam the land for all eternity. Samurai Jack premieres Saturday, March 11th at 11pm ET/PT on Adult Swim.
Samurai Jack returns March 11th.