'Genius' Super Bowl Spot: Albert Einstein Rocks Out To A Little Bad Romance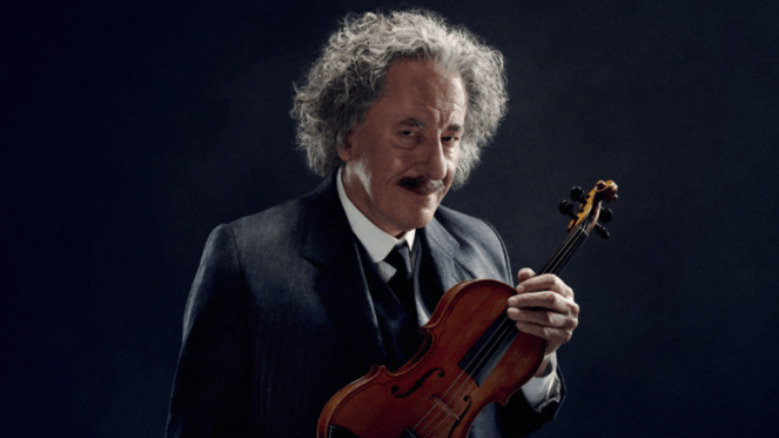 We're only a day away from (hopefully) seeing Matt Ryan and the Atlanta Falcons defeat the New England Patriots. That matchup should make for a great game, and if not, at least we'll see some commercials to keep us engaged. One ad guaranteed to grab the attention of a few million people is an ad for the National Geographic series Genius, which features Albert Einstein (Geoffrey Rush) playing Lady Gaga's riveting "Bad Romance" on the violin.
Below, watch the Genius Super Bowl spot.
Season one of National Geographic's first scripted (anthology) series, Genius, depicts the life of the brilliant Noble Prize-winning physicist, Albert Einstein. Each subsequent season of the show focuses on another brilliant figure in history. The first ten episodes of Genius are an adaptation of Walter Isaacson's biography, "Einstein: His Life and Universe," based on some of Einstein's personal letters.
Ron Howard (Rush) directed the premiere, with both himself and producer Brian Grazer on board as executive producers. In addition to Rush, Genius season one stars Johnny Flynn (Clouds of Sils Maria) as young Albert Einstein, Emily Watson (Punch-Drunk Love) as Einstein's second wife, Elsa, Nicholas Rowe (Mr. Holmes) as Jost Winteler, and Samantha Colley (Victoria) as physicist Mileva Maric.
Here's the Genius Super Bowl spot:
A previous commercial for Genius featured a cover of The Pixies' "Where is My Mind?", which was a little on-the-nose, and by this point, feels overdone. There's nothing on-the-nose about Albert Einstein performing Gaga's "Bad Romance," though. Einstein brought to life by Geoffrey Rush, performing a delightful cover of a Lady Gaga song, makes for a commercial that's tough to ignore. We may hear the original 2009 song during the Super Bowl, too, since Gaga is performing during the halftime show.
On behalf of McMann New York, director Ivan Zachariáš shot the commercial earlier this week in Prague. McCann's Chief Creative Office, Eric Silver, believed using Gaga's song was not only good timing but suited Albert Einstein. He told Variety:
"We wanted to create a beautiful commercial that was true to the character of Albert Einstein. We knew Einstein frequently played violin as a brainstorming technique. The timing of our placement immediately after Lady Gaga's halftime performance felt like serendipity, giving us the perfect platform to bring the adored physicist to life in a memorable way."
McCann's commercial is the most compelling look yet at Genius, primarily because it's different. We rarely see ads for period pieces and biopics with a modern, playful twist like a Lady Gaga song. Plus, the commercial ends on a high note with Rush making that face and looking convincing as Einstein.
Genius premieres April 25 on the National Geographic.