Every Best Cinematography Winner Video Showcases A Beautiful Evolution Of Cinema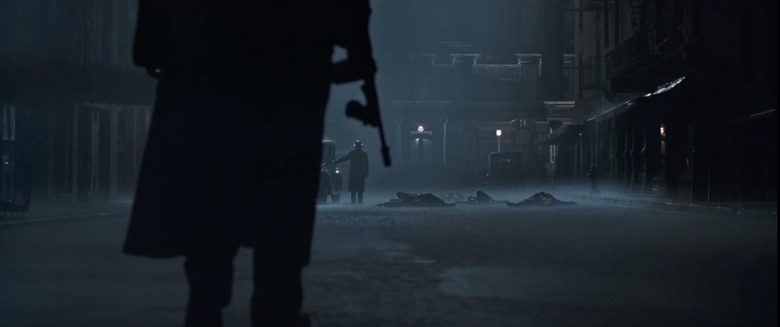 Burger Fiction has put together a beautiful video compiling clips from every film to have won best cinematography at the Academy Awards, from 1927 to 2015. It's not only great to see clips from these films but to watch how cinematography has evolved over the course of these 88 years of cinema (which included a time when there were two awards handed out to both films in color and black & white. Hit the jump to watch the best cinematography winner video now.
Every Best Cinematography Winner Ever
With the Academy Awards quickly approaching, one must wonder which film will join this legacy. Here is the list of the nominees for best cinematography for the year 2016:
James Laxton for Moonlight
Rodrigo Prieto for Silence
Linus Sandgren for La La Land
Bradford Young for Arrival
My guess is it will either be La La Land or Arrival.
For those curious, here are the Oscar award-winning films included in the video:
Sunrise: A Song Of Two Humans (1927/28) – Charles Rosher & Karl Struss
White Shadows In The South Seas (1928/29) – Clyde De Vinna
With Byrd At The South Pole (1929/30) – Joseph T. Rucker & Willard Van der Veer
Tabu: A Story Of The South Seas (1930/31) – Floyd Crosby
Shanghai Express (1931/32) – Lee Garmes
A Farewell To Arms (1932/33) – Charles Lang
Cleopatra (1934) – Victor Milner
A Midsummer Night's Dream (1935) – Hal Mohr
Anthony Adverse (1936 B&W) – Tony Gaudio
The Garden Of Allah (1936 COLOR) – W. Howard Greene & Harold Rosson
The Good Earth (1937 B&W) – Karl Freund
A Star Is Born (1937 COLOR) – W. Howard Greene
The Great Waltz (1938 B&W) – Joseph Ruttenberg
Sweethearts (1938 COLOR) – Oliver T. Marsh & Allen Davey
Wuthering Heights (1939 B&W) – Gregg Toland
Gone With The Wind (1939 COLOR) – Ernest Haller & Ray Rennahan
Rebecca (1940 B&W) – George Barnes
The Thief Of Bagdad (1940 COLOR) – Georges Perinal
How Green Was My Valley (1941 B&W) – Arthur C. Miller
Blood And Sand (1941 COLOR) – Ernest Palmer & Ray Rennahan
Mrs. Miniver (1942 B&W) – Joseph Ruttenberg
The Black Swan (1942 COLOR) – Leon Shamroy
The Song Of Bernadette (1943 B&W) – Arthur C. Miller
Phantom Of The Opera (1943 COLOR) – Hal Mohr & W. Howard Greene
Laura (1944 B&W) – Joseph LaShelle
Wilson (1944 COLOR) – Leon Shamroy
The Picture Of Dorian Gray (1945 B&W) – Harry Stradling
Leave Her To Heaven (1945 COLOR) – Leon Shamroy
Anna And The King Of Siam (1945 B&W) – Arthur C. Miller
The Yearling (1946 COLOR) – Charles Rosher, Leonard Smith & Arthur E. Arling
Great Expectations (1947 B&W) – Guy Green
Black Narcissus (1947 COLOR) – Jack Cardiff
The Naked City (1948 B&W) – William H. Daniels
Joan Of Arc (1948 COLOR) – Joseph A. Valentine, William V. Skall & Winton Hoch
Battleground (1949 B&W) – Paul C. Vogel
She Wore A Yellow Ribbon (1949 COLOR) – Winton Hoch
The Third Man (1950 B&W) – Robert Krasker
King Solomon's Mines (1950 COLOR) – Robert Surtees
A Place In The Sun (1951 B&W) – William C. Mellor
An American In Paris (1951 COLOR) – Alfred Gilks & John Alton
The Bad And The Beautiful (1952 B&W) – Robert Surtees
The Quiet Man (1952 COLOR) – Winton Hoch & Archie Stout
From Here To Eternity (1953 B&W) – Burnett Guffey
Shane (1953 COLOR) – Loyal Griggs
On The Waterfront (1954 B&W) – Boris Kaufman
Three Coins In The Fountain (1954 COLOR) – Milton R. Krasner
The Rose Tattoo (1955 B&W) – James Wong Howe
To Catch A Thief (1955 COLOR) – Robert Burks
Somebody Up There Likes Me (1956 B&W) – Joseph Ruttenberg
Around The World In 80 Days (1956 COLOR) – Lionel Lindon
The Bridge On The River Kwai (1957) – Jack Hildyard
The Defiant Ones (1958 B&W) – Sam Leavitt
Gigi (1958 COLOR) – Joseph Ruttenberg
The Diary Of Anne Frank (1959 B&W) – William C. Mellor
Ben-Hur (1959 COLOR) – Robert Surtees
Sons And Lovers (1960 B&W) – Freddie Francis
Spartacus (1960 COLOR) – Russel Metty
The Hustler (1961 B&W) – Eugen Schufftan
West Side Story (1961 COLOR) – Daniel L. Fapp
The Longest Day (1962 B&W) – Jean Bourgoin & Walter Wottitz
Lawrence Of Arabia (1962 COLOR) – Freddie Young
Hud (1963 B&W) – James Wong Howe
Cleopatra (1963 COLOR) – Leon Shamroy
Zorba The Greek (1964 B&W) – Walter Lassally
My Fair Lady (1964 COLOR) – Harry Stradling
Ship Of Fools (1965 B&W) – Ernest Laszlo
Doctor Zhivago (1965 COLOR) – Freddie Young
Who's Afraid Of Virginia Woolf? (1966 B&W) – Haskell Wexler
A Man For All Seasons (1966 COLOR) – Ted Moore
Bonnie And Clyde (1967) – Burnett Guffey
Romeo And Juliet (1968) – Pasqualino De Santis
Butch Cassidy And The Sundance Kid (1969) – Conrad L. Hall
Ryan's Daughter (1970) – Freddie Young
Fiddler On The Roof (1971) – Oswald Morris
Cabaret (1972) – Geoffrey Unsworth
Cries And Whispers (1973) – Sven Nykvist
The Towering Inferno (1974) – Fred J. Koenekamp & Joseph F. Biroc
Barry Lyndon (1975) – John Alcott
Bound For Glory (1976) – Haskell Wexler
Close Encounters Of The Third Kind (1977) – Vilmos Zsigmond
Days Of Heaven (1978) – Nestor Almendros
Apocalypse Now (1979) – Vittorio Storaro
Tess (1980) – Geoffrey Unsworth & Ghislain Cloquet
Reds (1981) – Vittorio Storaro
Gandhi (1982) – Billy Williams & Ronnie Taylor
Fanny And Alexander (1983) – Sven Nykvist
The Killing Fields (1984) – Chris Menges
Out Of Africa (1985) – David Watkin
The Mission (1986) – Chris Menges
The Last Emperor (1987) – Vittorio Storaro
Mississippi Burning (1988) – Peter Biziou
Glory (1989) – Freddie Francis
Dances With Wolves (1990) – Dean Semler
JFK (1991) – Robert Richardson
A River Runs Through It (1992) – Philippe Rousselot
Schindler's List (1993) – Janusz Kaminski
Legends Of The Fall (1994) – John Toll
Braveheart (1995) – John Toll
The English Patient (1996) – John Seale
Titanic (1997) – Russell Carpenter
Saving Private Ryan (1998) – Janusz Kaminski
American Beauty (1999) – Conrad L. Hall
Crouching Tiger, Hidden Dragon (2000) – Peter Pau
The Lord Of The Rings: The Fellowship Of The Ring (2001) – Andrew Lesnie
Road To Perdition (2002) – Conrad L. Hall
Master And Commander: The Far Side Of The World (2003) – Russell Boyd
The Aviator (2004) – Robert Richardson
Memoirs Of A Geisha (2005) – Dion Beebe
Pan's Labyrinth (2006) – Guillermo Navarro
There Will Be Blood (2007) – Robert Elswit
Slumdog Millionaire (2008) – Anthony Dod Mantle
Avatar (2009) – Mauro Fiore
Inception (2010) – Wally Pfister
Hugo (2011) – Robert Richardson
Life Of Pi (2012) – Claudio Miranda
Gravity (2013) – Emmanuel Lubezki
Birdman (2014) – Emmanuel Lubezki
The Revenant (2015) – Emmanuel Lubezki