'Supergirl' Casts 'Lois & Clark' Star Teri Hatcher; 'Gotham' Finally Reveals The Riddler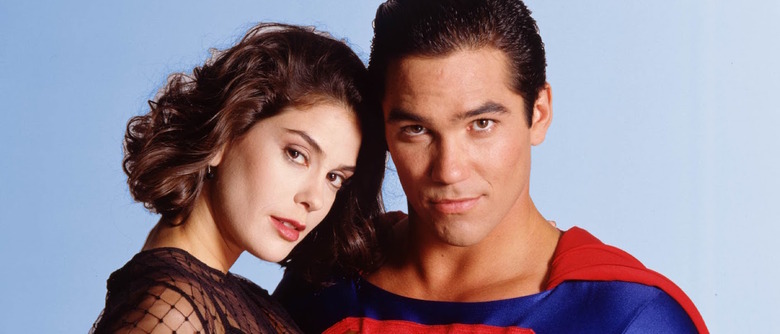 Two DC shows are digging back into superhero history as they look go the future. Over on The CW, Supergirl has cast Teri Hatcher, star of the 1990s Superman series Lois & Clark: The New Adventures of Superman, for a big upcoming arc. Meanwhile, Fox's Gotham is finally ready to fulfill Edward Nygma's destiny and turn him into the green-suited Riddler we all know and love. Learn more about the Supergirl Teri Hatcher casting and get your first look at the Gotham Riddler below. 
Let's start with Supergirl. TVLine reports Hatcher has been cast in a mysterious but meaty role in season two. While specific details on her character are being kept under wraps for now, she's got a multi-episode arc that eventually sees her emerging as the season's big bad. It's unclear when she'll make her first appearance, but The CW confirms she'll debut "this winter," so we can likely expect to see her sooner rather than later.
Supergirl has long had a habit of hiring former Super-stars. Hatcher's own Lois & Clark co-star Dean Cain has a recurring role as Kara's adoptive father. They have also previously cast Supergirl star Helen Slater as Karen's adoptive mother and Smallville's Supergirl Laura Vandervoort as Indigo. In addition, Wonder Woman herself, Lynda Carter, guest-starred as the President of the United States earlier this season.
Moving on, Gotham has unveiled our first look at its Riddler. Edward Nygma, played by Cory Michael Smith, has been with Gotham since the very first episode. However, he started out as an awkward forensic scientist working for Gotham City PD, and has gradually become more cruel and unhinged as the show has gone on. It's only now, in season three, that he seems to be fully inhabiting his Riddler persona.
The Gotham promo below shows him in full-on supervillain mode, complete with the Riddler's signature bright green suit and bowler hat. The show returns from hiatus on April 24, with the episode "How the Riddler Got His Name."