First Look: Rihanna's Marion Crane Checks Into 'Bates Motel' Season Five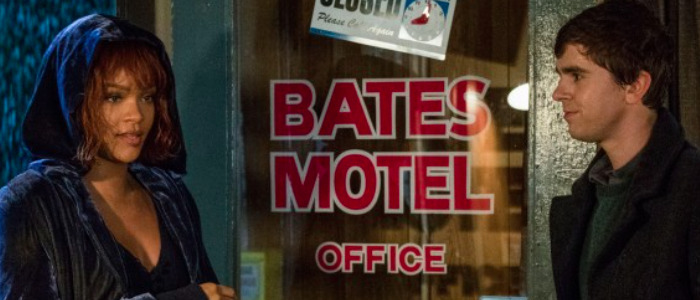 Bates Motel returns for its fifth season on February 20th. The show, which more than a few people were initially skeptical about, went on to become a success for A&E. While the series began to lose some steam around season two or three, it's now coming to a close with season five, which creators Carlton Cuse (Lost) and Kerry Ehrin (Friday Night Lights) had always envisioned. Actor, singer and artist Rihanna is a part of the final season, and she's co-starring as Marion Crane, famously played by Janet Leigh in Alfred Hitchcock's Psycho.
Below, get your first look at Rihanna in Bates Motel.
Marion Crane serves a different purpose in A&E's Bates Motel. We can all probably safely assume her tragic fate at the hands of Norman Bates (Freddie Highmore), but she now enters Norman's life when he's most vulnerable. "He's in a very fragile and lonely place, and Marion Crane is a charismatic woman, she's super present when she's with him and she's very attractive — all those things are exactly what he needs right at this moment," Ehrin told Entertainment Weekly.
In Hitchcock's film, Crane is on the run after stealing her boss' money. She makes another mistake by staying a night at the Bates Motel, where she's murdered by Norman during the legendarily terrifying shower sequence. Crane wanted to start a new life with her recently divorced boyfriend — a storyline that's a part of Bates Motel. Cuse, Ehrin, and the writing staff are only "taking threads of that story and definitely using them, so it's recognizable," but they're going in a different direction, according to Ehrin:
We're taking threads of that story and definitely using them so it's recognizable, it's just where we go with it is very different. It's tough to be in a situation where you're in love with a guy, and for whatever reason, he keeps stalling. You still have all this hot sex with him, and he's saying he loves you, but he's stalling. The internal story of that, for a woman, is a really interesting one. We never really got to see that. In Psycho, you just see the outside of that more. It was trying to do a story about a contemporary woman with some edge, with some expectations, who isn't perfect, who isn't always perfectly sweet, who is in that situation, but we're rooting for her to get what she wants.
Crane has a multi-episode arc in Bates Motel. She arrives 18 months after the death of Norma, whose presence is still pivotal to Norman and the final season. The A&E series isn't the only time we'll see Rihanna act in a project this year. The actress, who's currently shooting Ocean's 8, has a role in Luc Besson's Valerian and the City of a Thousand Planets. Rihanna's first major acting gig, Battleship, didn't give her the best material to work with, but perhaps the charismatic singer — who has a powerful presence in her music videos that would be nice to see in a movie or series — will soon show us what she's fully capable of as an actress. I'm guessing she has more range than Battleship allowed her to show.
Here's the synopsis:
Season five of "Bates Motel" picks up almost two years later and finds Norman (Freddie Highmore), a grown man now, living a double life. Publicly he's a happy and well-adjusted member of the White Pine Bay community, but at home Norman struggles; his violent blackouts continue to increase as 'Mother' (Vera Farmiga) threatens to take over his mind completely. Meanwhile, Dylan Massett (Max Thierot) and Emma Decody (Olivia Cooke), since leaving White Pine Bay, have been living their lives blissfully unaware of Norma's death and Norman's full on descent into psychosis. Unfortunately, for them, they will soon find themselves drawn back into Norman's insanity, while a vengeful Alex Romero (Nestor Carbonell), who is currently incarcerated for a perjury, hungers for a chance to destroy his stepson and avenge the murder of his one true love, Norma Bates.
Bates Motel returns for its final season on February 20th at 10 p.m. ET.