'Soldado' May Or May Not Take Place After 'Sicario,' But It Really Doesn't Matter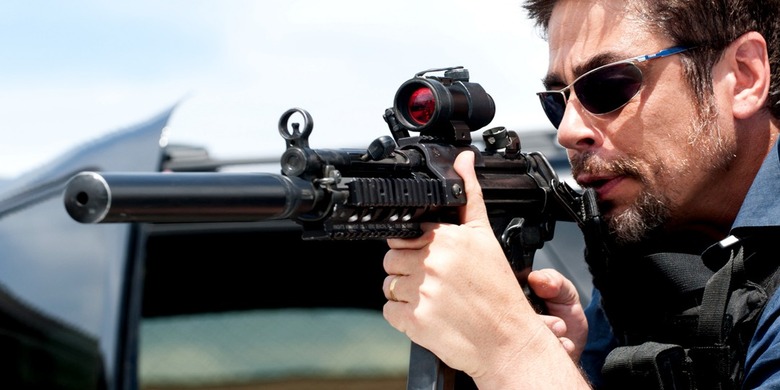 Filming wraps on the Sicario sequel, titled Soldado, in a couple of days in Mexico City. Just the other day, Academy Award-nominated screenwriter Taylor Sheridan (Hell or High Water) gave an update on the project, saying, "If Sicario is a film about the militarization of police and that blending over, this is removing the policing aspect from it." Soldado deals heavily with immigration, so Sheridan and producer Basil Iwanyk (John Wick: Chapter Two) believe the sequel is relevant in more than a few ways. Iwanyk is also confident the sequel is bigger, has more "bells and whistles," and digs deeper into the characters. Below, learn more about the Sicario sequel.
Alejandro (Benicio del Toro) and Matt Graver (Josh Brolin) are the stars of Soldado. Kate Macer (Emily Blunt) isn't a part of their story in the sequel, which either takes place before or after the events of Sicario. Making Soldado truly a standalone sequel, there's not going to be any mention of the events in Denis Villeneuve's (Blade Runner 2049) film or Macer, Iwanyk told Collider:
You have no idea if it's before or after [the events of Sicario], if it's five years—you have no clue. There is no reference at all to the first Sicario, so you don't know when it happens... Sicario, the world isn't that specific. It's just these characters. And frankly, we wanted audiences to experience the characters in real-time rather than having an exposition dump saying, 'Meanwhile in Sicario'...
Considering most sequels have exposition dumps trying to catch up unfamiliar audiences, Sheridan's approach to Soldado sounds refreshing. His writing is typically light on exposition, with the focus more on character and mood. Not referencing the first movie, especially if it doesn't relate to the story he's telling now, is a clever way of making a film sequel stand apart. Sheridan wanted to write a "less sequel-y" movie, which is a part of the reason why Blunt isn't in Soldado:
I have to stress that we love Emily personally and professionally. She's amazing. She did incredible in the movie, but I think Taylor realized there was nowhere for her [character] to go. Taylor didn't know where to bring her in the second movie, so he decided it would feel less contrived, less sequel-y, if she wasn't in the second movie and it was just dealing with Benicio and Josh's characters. And also again, not really having a relationship to the first movie. It's more of like another chapter in some ways.
Sheridan wants to show what Alejandro and Matt are capable of when someone isn't watching them. Bringing the writer's highly praised script to life is director Stefano Sollima (Gomorrah TV series), not Villeneuve and cinematographer Roger Deakins. While fans of Sicario are understandably disappointed they didn't return, the producer is confident they won't be disappointed with the final result:
The aesthetic of that movie, our director Stefano Sollima is able to kind of extend that aesthetic and augment it. So if you love the first movie, I truly believe you're going to love this movie if not more. There are more bells and whistles and we go deeper with the characters, especially with Benicio's character.
When Benicio del Toro first appears in Sicario, you know that character has seen a lot in his life. Sicario revealed details about Alejandro's past but by the end of the film, it's quickly apparent there's more to him, his past, and future. There's also perhaps more to say about his and Matt's somewhat unspoken relationship.
Here's a photo Brolin recently shared from the set of Soldado (Source: Instagram):
Soldado. @black_label_media #beniciodeltoro @lionsgatemovies @stefanosollima #dariuszwolski Photo by #kevingrahamcaso
A photo posted by Josh Brolin (@joshbrolin) on