Peter Capaldi Leaving 'Doctor Who' This Year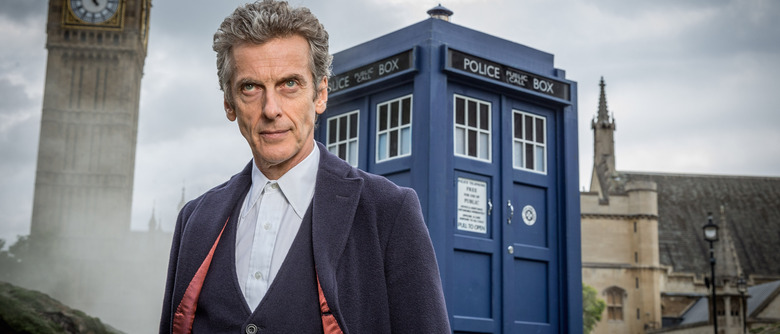 Looks like it's time for the Doctor to regenerate again. Doctor Who star Peter Capaldi has just confirmed the next season of the long-running British sci-fi series will be his last, after boarding the show back in 2014. He'll be leaving hot on the heels of showrunner Steven Moffat, who'll be replaced by Chris Chibnall (Broadchurch) starting in 2018. 
Capaldi revealed last year that he'd been asked to stay on board past Moffat's departure, but at the time he hadn't made up his mind. Apparently, he's finally decided he wants to move on. The actor confirmed his exit in an interview with BBC Radio 2's Jo Whiley. "I feel sad. I love Doctor Who," he told her. "But I've always been somebody that did a lot of different things. I've never done one job for three years. This is the first time I've done this. And I feel it's time for me to move on to different challenges."
BREAKING NEWS!
"It (the new series of Doctor Who) will be my last... I feel it's time to move on."
– Peter Capaldi
#DoctorWho pic.twitter.com/4gx9rTShPZ

— Doctor Who (@bbcdoctorwho) January 30, 2017
Peter confirms he'll be stepping down in Xmas 2017, but
"I'm still #DoctorWho! We're doing epic stuff! I'm not done yet!"
- Peter Capaldi pic.twitter.com/OYqTN7qIws

— Doctor Who (@bbcdoctorwho) January 30, 2017
Capaldi joined Doctor Who in its eighth season, which aired in 2014. He is the twelfth Doctor in the show's history, succeeding Christopher Eccleston, David Tennant, and Matt Smith. He'll stick around for the tenth season, which will consist of twelve episodes, all the way through its Christmas special at the end of the year. Doctor Who will survive beyond Capaldi and Moffat — as mentioned above, Chibnall has already been named the new showrunner for 2018 and beyond — but for better or for worse, season ten sounds like it'll be the end of an era.
Said Capaldi in a statement:
One of the greatest privileges of being Doctor Who is to see the world at its best. From our brilliant crew and creative team working for the best broadcaster on the planet, to the viewers and fans whose endless creativity, generosity and inclusiveness points to a brighter future ahead. I can't thank everyone enough. It's been cosmic.
Moffat added:
For years before I ever imagined being involved in Doctor Who, or had ever met the man, I wanted to work with Peter Capaldi. I could not have imagined that one day we'd be standing on the TARDIS together. Like Peter, I'm facing up to leaving the best job I'll ever have, but knowing I do so in the company of the best, and kindest and cleverest of men, makes the saddest of endings a little sweeter. But hey, it's a long way from over. Peters' amazing, fiery, turbulent Doctor is still fighting the good fight, and his greatest adventures are yet to come. Monsters of the universe, be on your guard – Capaldi's not done with you yet!
Of course, those who love Capaldi can take comfort in the fact that we haven't seen the last of him. He'll be seen next year in Paddington 2, reprising his role as the Browns' nosy neighbor Mr. Curry.
Doctor Who's tenth season — Capaldi and Moffat's last — will premiere in April in the U.K.