'Fantastic Beasts' Deleted Scene: Singalong To The Ilvermorny School Anthem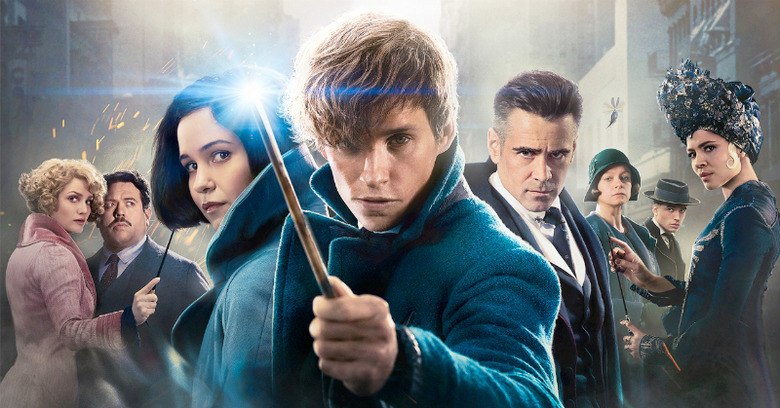 At the heart of Fantastic Beasts and Where to Find Them is a straightforward and sweet story: an animal lover and magizoologist, Newt Scamander (Eddie Redmayne), comes to New York City, where a few of his misunderstood creatures get loose. Newt's story often gets derailed by some uninteresting subplots, an underwhelming twist/piece of setup, and franchise thinking in David Yates' inconsistent film, which frequently goes from wonderous to frustrating. It wasn't the grand, heartfelt reintroduction to the wizarding world of Harry Potter, but audiences and fans embraced the film and helped it make over $800 million worldwide. Fantastic Beasts and Where to Find Them is a little while away from hitting home video, but a deleted scene featuring Newt and friends has already hit the web.
Below, watch a Fantastic Beasts deleted scene.
Perhaps knowing Tina (Katherine Waterson) and Queenie's (Alison Sudol) Ilvermorny School anthem isn't pertinent information for this particular story, but it does make for a sweet moment on its own. Maybe it was cut for pacing reasons, as it's not as if it moves the story along, but it feels like a scene that could've tightened the bond between Newt, Tina, Queenie, and Jacob Kowalski (Dan Fogler).
Sudol wrote the lyrics for the school anthem. The actress has released three albums under the name A Fine Frenzy. Her Ilvermorny School song is charming, pleasant, and even fits a story dealing with persecution as well. Here is the Fantastic Beasts and Where to Find Them deleted scene (via Screencrush):
Fantastic Beasts Deleted Scene
Two minutes of singing could've brought Fantastic Beats and Where to Find Them to a grinding halt, so again, it's understandable why this scene didn't make the final cut. The film arguably could've used more scenes like this one, though, where the four friends simply enjoy each other's company, not having to worry about the less engaging world-in-peril storyline going on around them. Fantastic Beasts writer J.K. Rowling did create another likable group of characters, but let's hope we get to spend more time with them and learn more about them in one of the many Fantastic Beast sequels.
Here's the synopsis:
Fantastic Beasts and Where to Find Them opens in 1926 as Newt Scamander has just completed a global excursion to find and document an extraordinary array of magical creatures. Arriving in New York for a brief stopover, he might have come and gone without incident...were it not for a No-Maj (American for Muggle) named Jacob, a misplaced magical case, and the escape of some of Newt's fantastic beasts, which could spell trouble for both the wizarding and No-Maj worlds.
Fantastic Beasts arrives on home video on April 11th. Fantastic Beasts 2 opens in theaters on November 16th, 2018.