First Look: The 'Ocean's 8' Crew Takes The Subway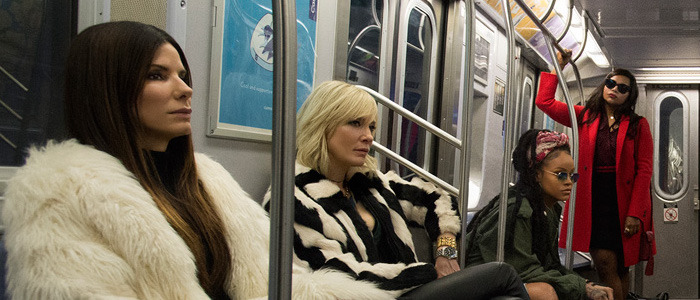 One of New York's interesting little quirks is that just about everyone takes the train. Even, apparently, criminal masterminds on their way to stage a multimillion-dollar heist at one of the glitziest events of the year. At least that's my takeaway from our first look at Ocean's 8, which puts Debbie Ocean (Sandra Bullock) and her crew (including characters played by Cate Blanchett, Sarah Paulson, and Anne Hathaway) on an MTA subway car. Check it out below.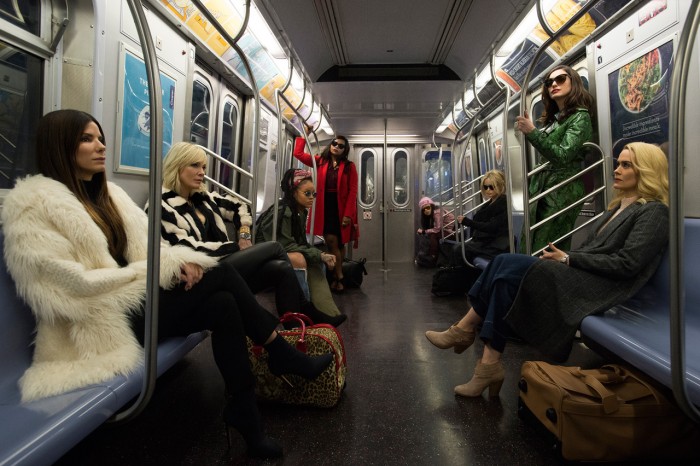 With the first image, Ocean's 8 seems to be reminding us that this film actually shot in New York, unlike lots of other films which are set in New York but actually shot in Toronto or Atlanta or wherever. That looks like a real New York City subway car, right down to the Casper and Blue Apron ads running along the walls. From left to right, that's Debbie Ocean (Sandra Bullock), Lou (Cate Blanchett), Nine Ball (Rihanna), Amita (Mindy Kaling), Constance (Awkwafina), Rose (Helena Bonham Carter), Daphne Kluger (Anne Hathaway), and Tammy (Sarah Paulson).
Debbie is the sister of Danny Ocean, George Clooney's character from the Steven Soderbergh Ocean's trilogy, and she's assembled a team to help her make off with the goods at the annual Met Gala. Blanchett is playing her right-hand woman, or the Brad Pitt equivalent. Those two are clearly positioned as the two leads of the movie — they're the first faces you see, and they're not obscured by sunglasses like most of their co-stars. But it's interesting to see Paulson is also right up there with them, even though the cast features more familiar household names like Hathaway. She certainly is having a moment.
In addition to the eight you see above, Ocean's 8 will also star James Corden, Dakota Fanning, and Richard Armitage. Matt Damon is expected to have a small role reprising his character from the Ocean's movies, and there have been rumors Clooney could return too. It all sounds like a blast, and it's just too bad Ocean's 8 won't open til June 8, 2018.