Did Jason Momoa Really Keep His 'Aquaman' Role Secret For Almost 5 Years?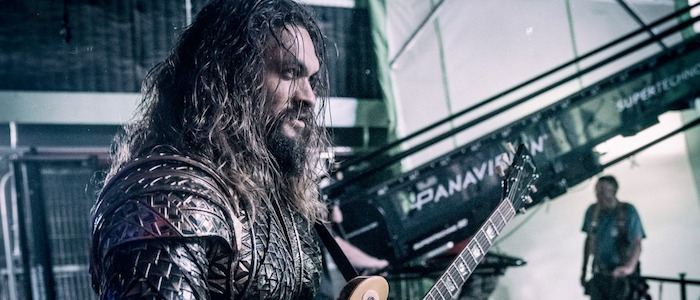 While appearing on Jimmy Kimmel Live, Jason Momoa revealed that he had to keep the secret that he was cast as Aquaman for four or five years. Is it really possible that he was cast that long ago?
Here is the clip from Jimmy Kimmel Live:
You can watch Jason Momoa's 2014 appearance where he dodges the question right here.
We know that Warner Bros and Zack Snyder were planning an end game of Justice League for some time, but this latest claim seems to suggest that they were developing these plans much earlier than any of us could possibly imagine.
While we began to hear reports that the actor may be playing Aquaman in December 2013, Momoa's Aquaman casting wasn't confirmed by Warner Bros until October 2014 when it was revealed that Aquaman would have a cameo appearance in Batman V Superman: Dawn of Justice. Could the role really have been a secret for four of five years? Let's take a look.
Zack Snyder's Man of Steel was released in theaters on June 14th, 2013. The idea for a Batman vs. Superman film which would lead to a Justice League team-up wasn't announced until Zack Snyder took the stage at San Diego Comic-Con International 2013. So if Momoa was cast as Aquaman four years before the official announcement, that would have been more than a year before Man of Steel went into production on July 25th, 2011.
Every interview I've seen with Zack Snyder explaining how Batman V Superman came about seemed to suggest that the idea that ballooned into Justice League and incorporating the characters in Dawn of Justice came after he made Man of Steel. So either Zack Snyder began to cast Justice League before he even went into production on Man of Steel or Momoa is exaggerating.
It seems very unlikely that Warner Bros made a deal with Momoa in 2009 or 2010, but maybe they were initially thinking of opening up the DC universe a bit earlier that what transpired. It also seems unlikely that Marvel would have screen tested Momoa for the role of Drax in Marvel's Guardians of the Galaxy in 2013 if he already was signed up for Aquaman.
James Wan is set to direct Momoa in the Aquaman solo film, which is scheduled to be released in October 2018. But we'll see him first in the DC Comics team-up film Justice League, which hits theaters on November 17th, 2017.