'The Lego Batman Movie' Featurette Goes "Behind The Bricks" With The Bat Family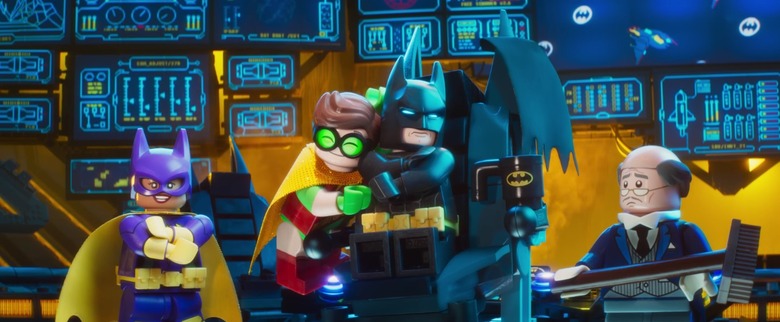 Batman may fancy himself a lone wolf type, but he has a recurring habit of getting roped into teams. Like the Justice League, in this fall's Justice League, or the Bat family, in next month's The Lego Batman Movie. A new "behind the bricks" featurette gets up close and personal with Lego Batman and his teammates, including Robin (Michael Cera), Batgirl (Rosario Dawson), and Alfred (Ralph Fiennes). Meanwhile, Lego Joker (Zach Galifianakis) and Harley Quinn (Jenny Slate) just seem to be lounging around their lair, waiting for Batman to notice them. 
So if Batman is a solo act, why all the other good guys? Lego Batman explains:
Yeah, the suits at the studio thought my dark life of fighting crime alone needed a few more heroes in it. Even though I really don't need anyone at anytime, ever, because I'm totally awesome and Batman works alone. Fact is, I'm a team player, so I said cool. As long as they don't bother me or touch any of my stuff.
This seems like great news for Robin, who just wants a family ("Woo-hoo! I've been parented!" he yells when Batman sends him to his room) and for Batgirl, who dreams of a Gotham City "where heroes can team up and fight crime together." And it looks like it'll help Alfred achieve his goal as well, of becoming "the most popular butler, the most famous butler, in motion picture history."
It's maybe less good news for the Joker, who has enough trouble getting Batman's attention as it is. Though he apparently hopes The Lego Batman Movie will change that. "What I love about this movie the most is that it finally takes the time to explore my sensitive side," he says. "I mean, yes, I am a master criminal slash improv comedy genius, but I'm also a nice guy. And once Batman finally realizes this, I won't be just smiling on the outside, I'll be smiling on the inside, too. That'll be a nice relief." Aw. Poor guy. At least he's still got Harley, who reassures him that "nobody's got a smile like you, Mr. J."
The Lego Batman Movie is in theaters February 10.
In the irreverent spirit of fun that made The LEGO Movie a worldwide phenomenon, the self-described leading man of that ensemble—LEGO Batman—stars in his own big-screen adventure. But there are big changes brewing in Gotham, and if he wants to save the city from The Joker's hostile takeover, Batman may have to drop the lone vigilante thing, try to work with others and maybe, just maybe, learn to lighten up.