'The Devil Wears Prada' Musical Coming To Broadway From Elton John And Paul Rudnick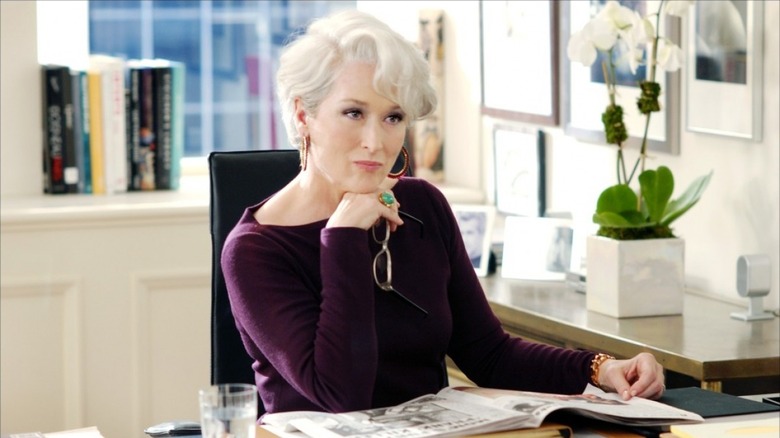 The Devil Wears Prada is a title we all know. It was a hit book, then a hit movie, and then David Frankel's movie proved to have legs, remaining today just as enjoyable, quotable, and as well liked as it was back in 2006, when it made over $300 million at the worldwide box office. Now author Lauren Weisberger's beloved story of a young aspiring writer (Anne Hathaway) in Manhattan working for the brilliant and relentless Miranda Priestly (Meryl Streep) is coming to Broadway, with icon Sir Elton John and playwright, novelist, and screenwriter Paul Rudnick writing the stage show.
Below, learn more about The Devil Wears Prada musical.
John and Rudnick is an exciting combo team for this musical. John is writing the music; Rudnick is writing the book and lyrics. Rudnick's Broadway credits include I Hate Hamlet and The New Century, and he's written such films as Sister Act, Addams Family Values, and the hilarious Kevin Kline comedy In & Out.
A timeline wasn't announced for the musical, but Tony Award-winning producer Kevin McCollum, who worked on Hand to God, Lin-Manuel Miranda's In the Heights and Rent, began developing The Devil Wears Prada musical over a year and a half ago.
John has plenty of experience on Broadway, having composed The Lion King and Aida, and winning a Tony Award for the latter in 2000. In a statement, the musician said (via Deadline):
Re-imagining The Devil Wears Prada for the musical theatre is super exciting. I'm a huge fan of both the book and the feature film and a huge aficionado of the fashion world. I can't wait to sink my musical teeth into this hunk of popular culture.
The musician's Rocket Entertainment is producing the show alongside Fox Stage Productions. Fox Stage Productions' Bob Cohen and McCollum are, of course, delighted John and Rudnick are onboard:
To bring The Devil Wears Prada to the stage, we knew we needed to find artists as inimitable as the characters in the story. We needed artists whose work has run the gamut from music and publishing to drama and fashion. We could think of only two names: Elton John and Paul Rudnick. That's all.
McCollum made a deal with 20th Century Fox in 2013, and under this deal, they'd look for the right opportunities to bring some of the studio's titles to stage. McCollum has already produced musicals based on Ever After and Diary of a Wimpy Kid; he wants to get to Sister Act at some point. It looks like The Devil Wears Prada is his next adaptation, which is made more appealing by John and Rudnick's involvement.