'Love' Season 2 Teaser: Gus And Mickey Return March 10th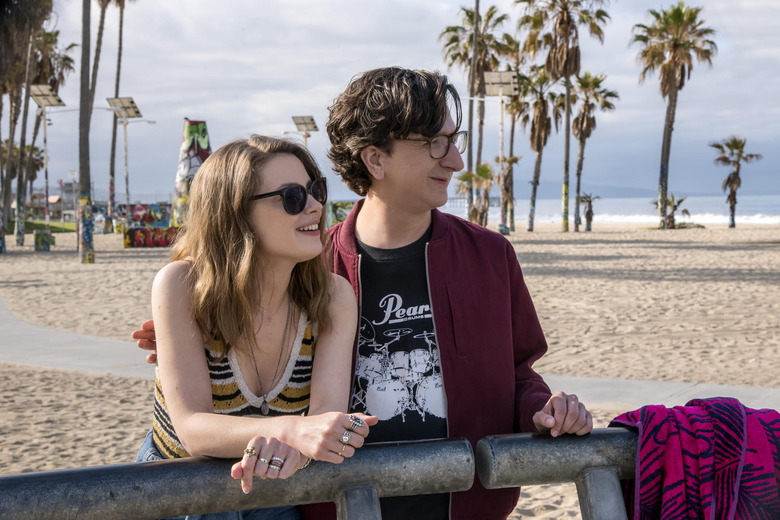 If, like me, you've lately been wondering when we're going to see season two of Netflix's Love, then you'll likely be happy to learn the series returns on March 10th. Paul Rust and Gillian Jacobs are back as Gus and Mickey. In season two of the delightfully honest romantic comedy series, which Rust co-created with Judd Apatow and Lesley Arfin, the couple face commitment.
Below, watch the Love season 2 teaser.
Season two of the series consists of 12 half-hour episodes. Gus and Mickey are still living in Los Angeles, and in the year since season one dropped last February on Netflix, things look like they're mostly going well for the two of them. Considering this isn't the typical romantic comedy, though, they'll likely have some real problems to deal with. Season two of Love co-stars Brett Gelman, Claudia O'Doherty, Tracie Thomas, Bobby Lee, Charlyne Yi, Kerri Kenney, Iris Apatow, and Briga Heelan.
The first promo for season two features smoking, dancing, and — a shot I'm looking forward to getting some context for — Gus encountering a few cops:
Love Season 2 Teaser
It's nice to see Gus and Mickey again. They're such a good, flawed, charismatic, and believable pairing. Even when they hit their lowest points, you root for them to get it together. They probably have a few things to still work on after season one, which ended with a between kiss between the two.
It's also nice to see David Spade guest stars in the upcoming season. Season one featured an excellent episode with an appearance from Andy Dick, giving his most grounded and natural performance in recent memory. It was Andy Dick acting vulnerable, and it was fantastic to watch. Spade, also known for more broad performances in movies, could show a side of himself some people maybe aren't used to, especially if they're unfamiliar with his standup.
Here's the official synopsis for Love season two:
The series follows nice guy Gus (Paul Rust) and brazen wild-child Mickey (Gillian Jacobs) as they navigate the exhilarations and humiliations of intimacy, commitment, love and other things they were hoping to avoid. In the second season, Mickey and Gus face commitment and all that comes with it as they attempt to bring order to their chaotic lives.
Season two of Love is available to stream starting March 10th.