Watch Josh Gad Grill Daisy Ridley About Star Wars: The Last Jedi; Ridley Cast In JJ Abrams Spy Drama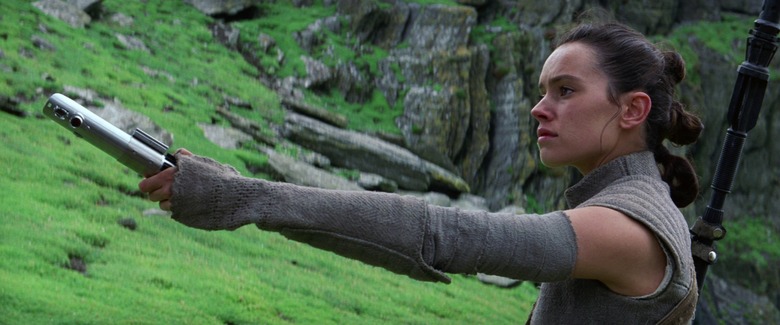 Star Wars: The Last Jedi is the title of the eighth chapter of the Star Wars saga, but everyone is wondering: who is the last Jedi? Is it Luke Skywalker (as evidenced by the mention in the opening crawl of Force Awakens)? Is it Rey? Is it Kylo Ren? Is it someone else? Or is Jedi plural and does the title refer to multiple people? Frozen star Josh Gad is currently filming Kenneth Branagh's Murder on the Orient Express with Daisy Ridley and decided to grill the Star Wars actress about the new title. You can watch the Daisy Ridley Last Jedi video after the jump, alongside news that Ridley is joining a Bad Robot-produced spy drama.
Josh Gad's Daisy Ridley Last Jedi Video
First up, Josh Gad posted the above video to his Facebook page of him begging Daisy Ridley for answers involving the questions surrounding the Star Wars: The Last Jedi title.
Today it was also announced that Paramount Pictures has acquired the rights to the Sonia Purnell book A Woman of No Importance and that Daisy Ridley is attached to star. Bad Robot is producing the film based on the book, which is the biography of American heiress and super-spy Virginia Hall, who attempted to break into the ranks of the American Foreign Service in the years before World War II. She was rejected because of her gender and having lost her leg in a hunting accident, and then worked during the war for the British intelligence unit SOE.
The Germans gave her the nickname Artemis, and The Gestapo reportedly considered her "the most dangerous of all Allied spies." General William Joseph Donovan awarded Hall a Distinguished Service Cross — the only one awarded to a civilian woman in World War II.President Truman wanted to award Hall in a public ceremony but Hall declines saying she was "Still operational and most anxious to get busy." Hall died in Rockville, Maryland on July 8th 1982 at age 76.
Paramount has yet to hire a screenwriter for the adaptation so we're probably a couple years out from this happening.