Dan Harmon Explains The Wait For 'Rick And Morty' Season 3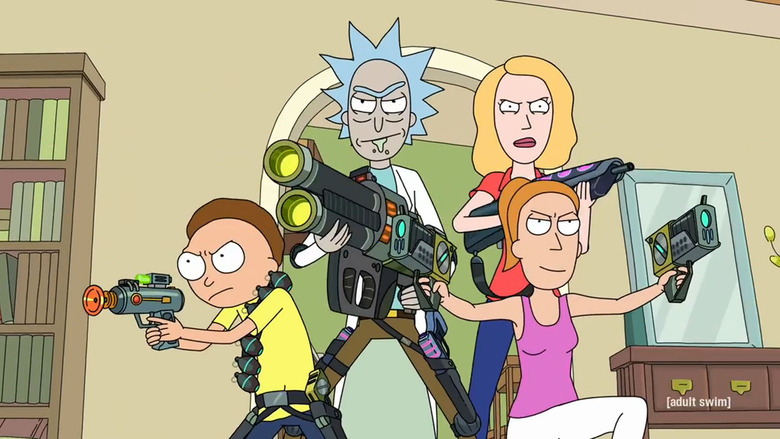 Co-creator Dan Harmon, Adult Swim, and all involved with the wonderful Rick & Morty were hoping season three would premiere towards the end of 2016. It was just a prediction (no premiere was ever set), but 2016 came and went without any more episodes of the acclaimed science fiction comedy series. Season three is still without a premiere date, which Harmon blames himself for.
Below, Harmon discusses Rick and Morty season three.
Season three is the longest season of Rick and Morty yet, with a likely total of 14 episodes (a number still unconfirmed by Adult Swim). When season two wrapped up last October, it ended with the delightfully named Mr. Poopybutthole saying we'd see young Morty and his drunk scientist grandpa return in about a year and a half. Maybe a March premiere is still in the cards, but it appears doubtful.
During a career-spanning conversation at Sundance with Indiewire, Harmon said "It's late because of us, it's late because of me":
If [co-creator] Justin [Roiland] were here he'd agree. He and I would go, 'Yeah, we fucked up,' and it's hard to put your finger on how we fucked up. Rick and Morty keeps taking longer and longer to write, and I don't know why.
We have fights all the time and then we have fights about why we're having fights. Well, we didn't fight during Season 2, that's why it's taking longer: all this fighting! So okay, let's stop fighting.
An Adult Swim spokesperson confirmed to Indiewire there's still no premiere date for season three, and Harmon didn't say when we might see the show come back. Rick and Morty is "deep in production" at the moment. It's tough to complain about the wait, though. Harmon's reason for the delay is a good one: writing takes time and writing requires creative arguments.
When it comes to crafting a show this funny and out-there, they should take all the time they need. From a fan's persective, what's the rush anyway? We don't know much about what Harmon and Roiland have in mind for season three of Rick and Morty, but writer Ryan Ridley teased: "You're going to see things that people have been wanting to see."
Here's the synopsis for the series:
Rick and Morty is Adult Swim's most scientifically accurate animated comedy. Created by Justin Roiland and Dan Harmon, it catalogues the bizarre misadventures of a bored scientific genius/drunkard and his socially awkward grandson, Morty. Their exploits tend to have unintended consequences for Morty's dysfunctional family, especially his unfailingly mediocre father, Jerry.
You can currently stream and enjoy Rick & Morty on Hulu and Adult Swim's site.