Stephen Colbert Hosting The 2017 Emmy Awards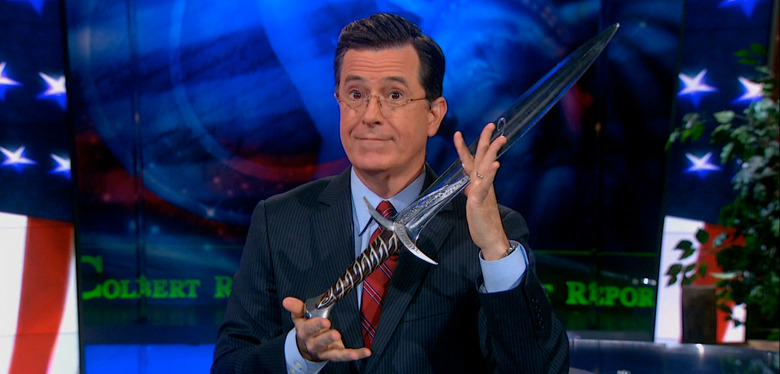 We still have a little while to go until the 69th Primetime Emmy Awards, but we now know who's hosting: Stephen Colbert. "This will be the largest audience to witness an Emmys, period," the Late Show host stated, referencing White House press secretary, Sean Spicer, "Both in person and around the globe." This will be the first time Colbert has hosted the Emmys.
Below, learn more about the Emmy host.
Jimmy Kimmel hosted the event last year, but this year he's front and center at the Academy Awards. Colbert has a big job ahead of him – the last two years the Emmys have hit record lows in the ratings. In 2016, 11.3 million viewers tuned in; the previous year attracted 11.9 million viewers. Back in 2013, the show pulled in 17.8 million viewers.
Stephen Colbert's previous show, The Colbert Report, was popular with Emmy voters, frequently receiving nominations and winning in the Outstanding Writing For a Variety Series and the Outstanding Variety Series categories.
In a statement, Jack Sussman, executive vice president, specials, music and live events of CBS Entertainment, said he's looking forward to Colbert entertaining audiences in September:
We're excited to kick off the new season and celebrate the top achievements in television with Stephen Colbert as host of the Primetime Emmys Stephen is the ultimate master of ceremonies with award-winning creative talents, and as we've seen the past few months, he has a fearless passion for live television. We look forward to honoring television's best while entertaining audiences with the creative energy and sharp comedy of Stephen Colbert.
Hayma Washington, Television Academy chairman and CEO, added:
We are thrilled that Stephen Colbert will be bringing his Emmy-winning comedic talent to hosting this year's Emmy Awards. He's a formidable showman and we are delighted to begin working with him and the entire CBS team.
Networks typically go in-house with their picks to host the Emmys. In 2011, Glee star Jane Lynch hosted for Fox; in 2012 and 2016, ABC had Kimmel on the job; Brooklyn Nine-Nine star Any Samberg was chosen one year by Fox; Seth Myers hosted for NBC in 2014; and the last time the show was on CBS, the responsibility went to How I Met Your Mother's Neil Patrick Harris.
The nominations for this year's Emmys are announced on July 13th and while Colbert's current show is eligible in certain categories, but it was shut-out last year. The Late Show with Stephen Colbert is coming off a good week in the ratings, though. Its household ratings were up last week, most notably on inauguration night.
The 69th primetime Emmy Awards air on September 17th at 8:00 p.m. E.T.