'Colossal' Teaser: Anne Hathaway Is A Literal Monster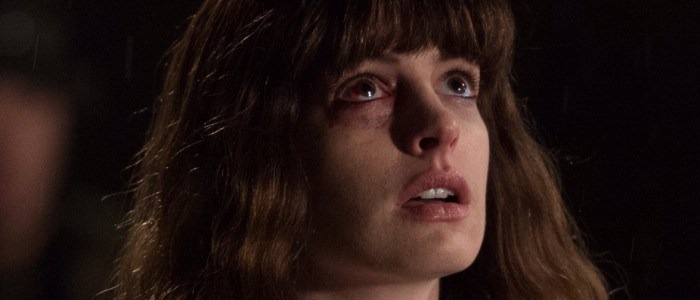 Even if you're a monster movie aficionado, it's likely you've never seen one quite like Nacho Vigalondo's Colossal. Anne Hathaway stars as Gloria, whose charm helps paper over the fact that she's a total mess. Unemployed and freshly single, she moves back to her hometown and reconnects with an old friend (Jason Sudeikis) who becomes her new drinking buddy.
So far, it sounds like just another quarter-life crisis indie dramedy, right? But Gloria, it turns out, shares a mysterious connection to a giant monster that's been rampaging through Seoul. As the truth of the situation dawns on her, Gloria must figure out how to stop it from spiraling completely out of control. Watch the Colossal teaser below.
I caught Colossal at TIFF last year and came away impressed by Vigalondo's ambition and originality:
Colossal is a slippery movie, twisting through several different genres and tones. At some points it feels like an indie dramedy a la Drinking Buddies, or an addiction narrative like Smashed. It's surprisingly low-key for a monster movie, and it's got a smattering of sharp feminist commentary.
It's weird, but not just for the sake of being weird. The bizarre premise dovetails beautifully with the film's thematic concerns, which gradually reveal themselves as the film goes on. Hathaway is very good playing against type as a messy and troubled soul, while Sudeikis adds new layers to his usual "charming jerk" role. And don't just take my word for it — Jacob, who saw Colossal at Fantastic Fest, loved it too, raving, "Nacho Vigalondo has finally made a movie as good as his debut (the exceptional Timecrimes)."
Colossal will be in theaters April 7 thanks to Neon, the very recently formed distribution company from Alamo Drafthouse's Tim League and RADiUS co-founder Tom Quinn. It's also playing this week at the Sundance Film Festival, if you happen to be around Park City right now.