'This Is Us' Renewed For Two More Seasons; Katie Couric And Brian Tyree Henry Guest-Starring Soon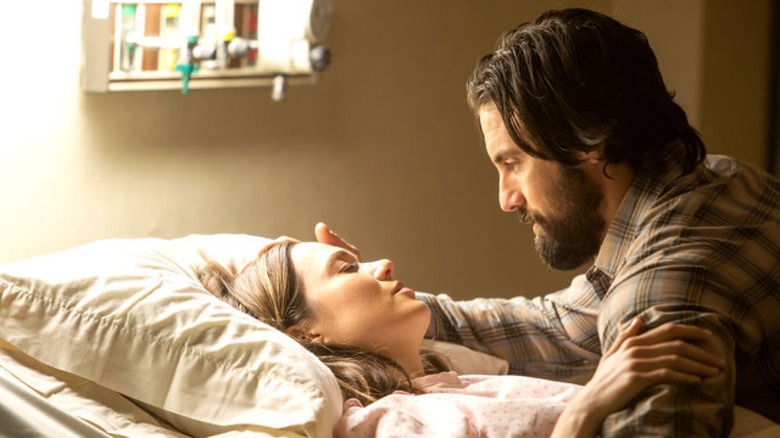 Before season one of This Is Us ends this March, NBC has already ordered two more seasons of the hit drama, which will soon feature Katie Couric and Brian Tyree Henry (Atlanta) as guest stars. After receiving great reviews and being greeted by a passionate audience, season one was extended to 18 episodes. Season two and three are 18 episodes a piece as well.
Below, learn more about This Is Us season two and what's next for the show.
Dan Fogelman's decades-spanning drama stars Mandy Moore (playing Rebecca), Milo Ventimiglia (Jack), Justin Hartley (Kevin), Chrissy Metz (Kate), and Emmy-winner Sterling K. Brown (Randall). Spoilers if you haven't even watched the pilot yet, but there was a surprise twist towards the end: Jack and Rebecca are in the 1970s, and they're Kevin, Kate, and Randall's parents. That's not what most viewers were expecting from the marketing they saw before the first episode aired.
It was announced during a panel at the Television Critics Association that 36 more episodes are definitely on the way. In a statement, President of NBC Entertainment, Jennifer Salke, discussed the no-brainer of bringing the hit show back (via Deadline):
We all got our wish that this is a hit show. This Is Us is as good as anything we've ever had, we're thrilled to renew it for two seasons and there's no doubt it will have a long life on NBC. On behalf of everyone at NBC, we're grateful for the artistry of the cast, crew, and producers assembled by our gifted creator, Dan Fogelman. In a world where there are literally hundreds of television dramas, we're proud to have one of the very best that is also one of the highest-rated.
Across all the different platforms, around 72 million viewers have watched the first 10 episodes of This Is Us. Over 10 million watched the pilot when it aired. Since the show's debut, the ratings have remained consistent.
As for what's next for the series, Fogelman has said the story's family would continue to unfold:
In the course of the first two seasons of the show, we will be unfolding the big picture story of this family and this marriage – seeing how past informs the present, etc. We even explore time before Milo and Mandy had kids. Its ambitious stuff and explaining it makes my face hurt. You kind of just have to watch and it makes sense.
Before season one wraps up, fans can expect to see two prominent guest stars. Journalist and former Today Show host, Katie Couric, will play herself, interviewing Kevin in a future episode. Brian Tyree Henry, who's great in FX's Atlanta, is set to appear in present day sequences and flashbacks. Henry is playing William's (Jermel Nakia) cousin.
This Is Us airs on NBC on Tuesdays at 9 p.m. EST.