'Better Call Saul' Season 3 Gets A Premiere Date, A Clip, And A Fried Chicken Kingpin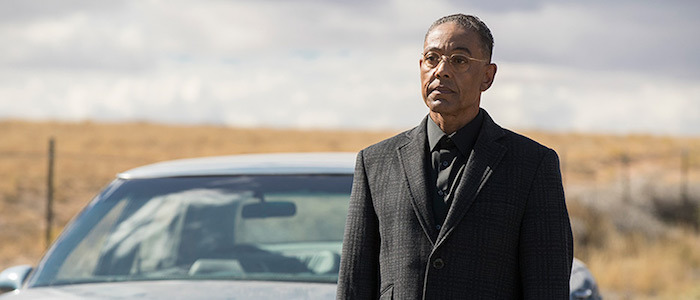 Better Call Saul hasn't exactly been subtle with its hints that Breaking Bad baddie Gus Fring would come knocking in the very near future. Last week, they went so far as to release a Los Pollos Hermanos "commercial" featuring Giancarlo Esposito back in character. But it's only now they've finally gone and made it official. Yes, Gus Fring will be in Better Call Saul season 3 — and it sounds like he'll be giving Mike Ehrmentraut (Jonathan Banks) something to chew on.
The first Better Call Saul clip, however, has nothing to do with chicken or drugs or Gus Fring whatsoever. Instead, it checks in on Jimmy McGill (Bob Odenkirk) and Kim Wexler (Rhea Seehorn), who seem to be feeling a little awkward about the way things went down in season two.
During its TCA panel over the weekend, AMC confirmed Esposito will be reprising the role of Gus Fring for Better Call Saul season 3. But this Fring might not be exactly the way you remember him — and not just because he'll have his face intact. "We're at a time where he's a little more immature than where we left off. He's still finding his way," teased Esposito, adding that "it would be wonderful for me to [see] the rise of Gus, because I think there's enough backstory within Gus to support that."
How exactly Gus Fring figures into the new season remains to be seen, but it's likely got something to do with Mike. Season 2 ended with Mike finding a mysterious note, believed by fans to be from Gus, and the season 3 logline indicates Mike will be looking for "a mysterious adversary who seems to know almost everything about his business."
Meanwhile, Jimmy seems to have plenty on his plate already, what with his ongoing feud with his brother Chuck (Michael McKean) and his very complicated friendship / romance / partnership with Kim (Rhea Seehorn). The first Better Call Saul clip offers a tiny taste of what's to come on that front. There seems to be some residual weirdness between Kim and Jimmy. And if Jimmy thinks his relationship with Chuck is damaged now, wait 'til Chuck gets his revenge with the taped confession.
Now, after all that goodness, you're probably wondering when we'll get to see the rest of Better Call Saul season 3. Well, there's good news on that front as well. AMC has just announced Better Call Saul season 3 will kick off Monday, April 10 at 10/9c.