'xXx: Return Of Xander Cage' TV Spot Brings Back Another Familiar Face; 'xXx 4' Already Being Discussed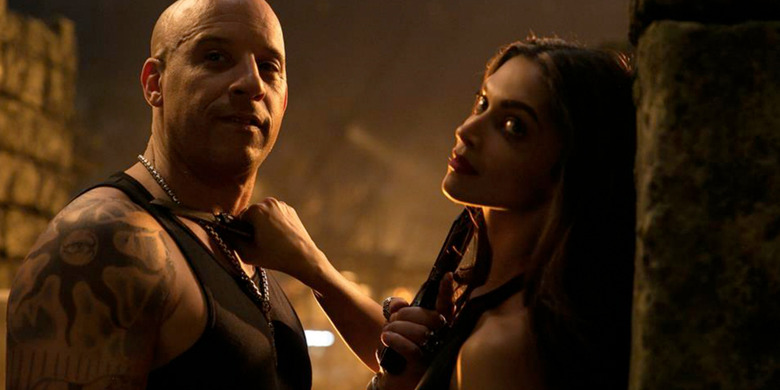 The wait is almost over. In nine days, audiences will see Vin Diesel return to one of his earliest star-making roles, Xander Cage. It's been over 14 years since Diesel last played the tatted and beefed up super spy in xXx. He's not the only one returning to this franchise, though.
Below, watch the new xXx: Return of Xander Cage TV spot (Spoilers follow).
The Diesel-less sequel, the underwhelming xXx: State of the Union, introduced a similarly rough-around-the-edges spy played by Ice Cube. That sequel didn't perform, failing to give us more adventures with Darius Stone. There were some rumors going around Stone would make a cameo in xXx: Return of Xander Cage, which a new TV spot now confirms.
Here's a xXx: Return of Xander Cage TV, spoiling what might've been a fun surprise for some moviegoers:
Featuring Ice Cube in the marketing is probably going to put a few more butts in seats next weekend. Rob Cohen's xXx made $277,448,382 at the worldwide box-office, but Diesel didn't return for the sequel because, according to the actor,  it didn't "feel like xXx." Around the time of his departure from State of the Union, Variety reported he turned down $20 million and 10% of the gross.
Flash forward a decade or so later and Diesel is already talking about a xXx 4. The actor mentioned to Variety Paramount has already expressed some interest in another sequel:
Well, it's funny. I was in the middle of an interview and Brad Grey — who runs Paramount — calls me and says, 'Will everybody come back to work in May?' I'm like – everyone's in interviews right now!
Of course, a fourth installment in the xXx franchise depends on how director D.J. Caruso's sequel performs. Diesel's starring vehicles outside of the Fast & Furious franchise, like The Last Witch Hunter and Babylon A.D., have often underperformed, but plenty of audiences know the name Xander Cage. The question is whether they want more Xander Cage. We'll know soon enough.
Here's the official synopsis:
The third explosive chapter of the blockbuster franchise that redefined the spy thriller finds extreme athlete turned government operative Xander Cage (Vin Diesel) coming out of self-imposed exile and on a collision course with deadly alpha warrior Xiang and his team in a race to recover a sinister and seemingly unstoppable weapon known as Pandora's Box. Recruiting an all-new group of thrill-seeking cohorts, Xander finds himself enmeshed in a deadly conspiracy that points to collusion at the highest levels of world governments. Packed with the series' signature deadpan wit and bad-ass attitude, "xXx:RETURN OF XANDER CAGE" will raise the bar on extreme action with some of the most mind-blowing stunts to ever be caught on film.
xXx: Return of Xander Cage opens in theaters January 20th. Check out the trailer here.