'Green Lantern Corps' Screenwriters Hired, Described As "Lethal Weapon In Space"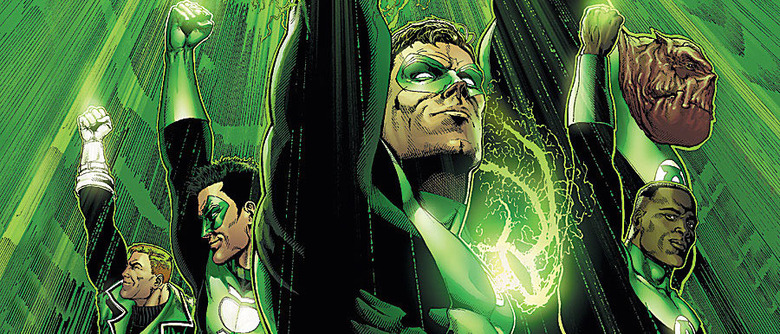 Warner Bros' Green Lantern movie starring Ryan Reynolds was supposed to be the beginning of a new DC movie universe, but the film was critically slammed and did poorly at the box office ($220 million worldwide on a estimated $200 million budget). Six years later and Warner Bros is ready to try their hands at this beloved DC superhero once again with Green Lantern Corps. Today it was announced that the studio has hired a screenwriter and producer for the new film. Find out more about the Green Lantern Corps screenwriters and producers, after the jump.
Warner Bros has hired writers David Goyer and Justin Rhodes to pen the script with for Green Lantern Corps. According to Deadline, Goyer will be producing the film with DC heads Geoff Johns and Jon Berg exec producing. Goyer has a long filmography, but it's notable that he worked on the Christopher Nolan Batman trilogy as well as Zack Snyder's Man of Steel and Batman v Superman: Dawn of Justice. This should worry those fans who haven't liked the DC Cinematic Universe films thus far.
Justin Rhodes wrote and directed an action thriller titled Contract Killers in 2008. He has since written the comedy film Grassroots and has been involved with a lot of big films in development including Fantastic Voyage, Mass Effect, Second Son and more.
Geoff Johns is a huge creative force behind the Green Lantern comic books and was involved in the 2011 film adaptation as well.
Unlike the previous version which focused on Hal Jordan becoming the Green Lantern of this region of the galaxy, the new version is being described as "Lethal Weapon in Space" and will feature both Hal Jordan and John Stewart. The Green Lantern Corps are an intergalactic police force founded billions of years ago to protect different sectors of the universe. Some of the better-known Green Lanterns include Hal Jordan, John Stewart, and Guy Gardner.
It is very unlikely that Ryan Reynolds will return as Hal Jordan for this new film, but you never know. Grammy winner turned actor Tyrese Gibson met with the studio a couple of years back about the prospect of playing John Stewart.
Green Lantern Corps is currently scheduled for July 24, 2020.