'Raw' Trailer: Almost Definitely The Best Cannibalism Coming-Of-Age Drama You'll See This Year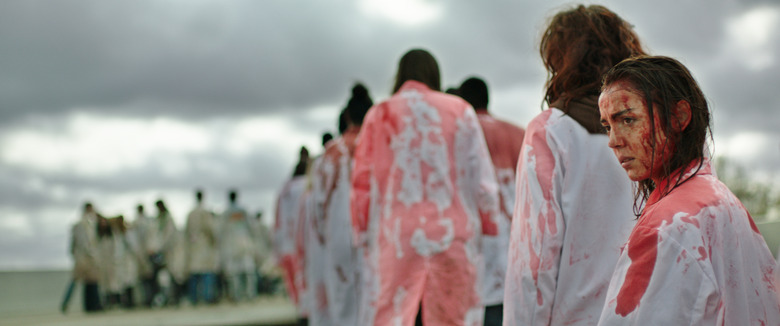 "Cannibalism coming-of-age story" isn't a phrase you hear every day, and that in itself is reason enough to be curious about Raw. Add in the fact that Raw received rave reviews on the festival circuit (that is, when it wasn't making audiences sick to their stomachs) and that it's being heralded as a breakout for first-time director Julia Ducournau and young star Garance Marillier and Ella Rumpf, and it's skyrocketed to near the very top of my most-anticipated list.
Raw centers around a young woman who's having a rough time adjusting to college. For most of us, that means battling annoying roommates or pounding hangovers; for her, it means developing an insatiable hunger for flesh. Focus World has just served up the first trailers for Raw today, and if you've got a taste for the macabre you'll definitely want to dig in. Check 'em out below.
Raw Trailer (Red-Band)
Our own Jacob Hall caught Raw at Fantastic Fest last year and came back singing its praises:
Raw is funny and sad and sexy and grotesque and moving and troubling and weird. It's a breath of fresh air and it represents the loud and proud arrival of a brilliant new talent in Julia Ducournau. It's one of the most brutally honest and nuanced coming-of-age movies ever made. It's hard to imagine a better final shot in any film I'll watch in 2016, with the accompanying final line of dialogue providing the strangely beautiful and wildly disturbing punchline that you didn't previously realize the movie needed. Raw is one of the best movies of the year.
This very clearly isn't a movie for the faint of heart, and those who get nauseous at the sight of gore should probably stay away. But if you think you can handle it, this one sounds like a must-see. Raw is select theaters March 10, 2017.
Everyone in Justine's family is a vet. And a vegetarian. At sixteen she's a brilliant student starting out at veterinary school where she experiences a decadent, merciless and dangerously seductive world. Desperate to fit in, she strays from her family principles and eats RAW meat for the first time. Justine will soon face the terrible and unexpected consequences as her true self begins to emerge...