M. Night Shyamalan Wants To Make A Trilogy [Updated]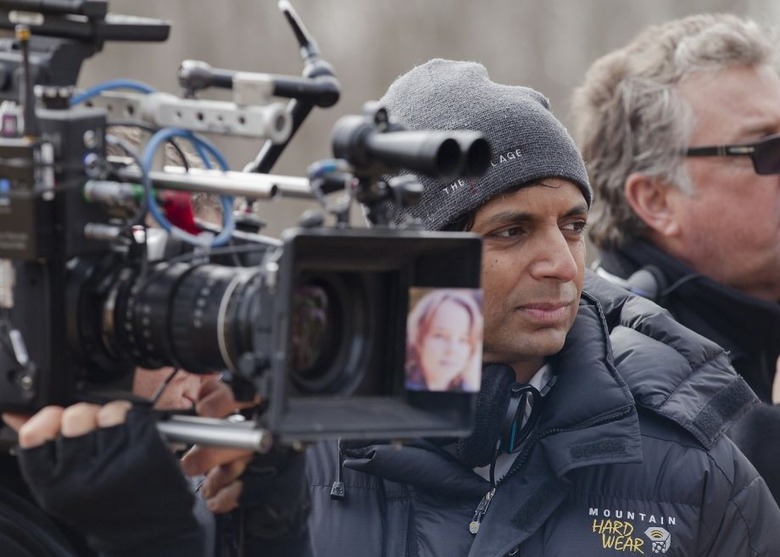 UPDATE: Shyamalan has confirmed his plans to make a trilogy and we've added the new details below.
Now that some of you've seen Split this past weekend, we can now talk more openly about its third act and, more specifically, its fantastic ending. Are those last few minutes more than a wink and a nod? Will we see a payoff to Split's ending? If writer-director M. Night Shyamalan has his druthers, possibly.
Below, learn more about a possible M. Night Shyamalan trilogy (Split SPOILERS follow).
For years and years, Shyamalan has been talking about making an Unbreakable sequel. By the end of Split, we learn his latest horror film takes place in the same world as Unbreakable, basically creating Shyamalan's own grounded universe filled with heroes and villains but without capes and end-of-the-world schemes.
Shyamalan remains tightlipped about whether we'll ever see Split's Kevin (James McAvoy) and Unbreakable's David Dunn (Bruce Willis) cross paths, in an Unbreakable sequel or elsewhere. But while promoting his latest overseas (hence the translation issues), he said during a press conference he has an idea for a trilogy and has "every intention to conclude this story." The director said a lot without getting into too many specifics (source: Cinefilos):
There has always been the idea of a trilogy and I'd do it on one of my films. I cannot tell you what movie it is but I'm working for some time on this thing. The idea of returning to write about a character which I have already written does not appeal to me as when you find out and write a new character, but the challenge that this possibility is my thing so I'm working on. I have every intention to conclude this story.
Shyamalan added he's writing "the third film," so perhaps he considers Split part two of the trilogy he's working on:
I've been working a lot to this idea, and if I can finish writing the third film, then I think I want to end this story. I want to make something unique and innovative, that's what inspires me to do it and if I can finish this story will be something unique.
The ending of Split certainly is a unique way to move forward with David Dunn and to further explore this world. Kevin fits Unbreakable's somber tone, so Split's reveal of the connection is not only a pleasant surprise but also makes perfect sense, logically and tonally. We'll see what the future holds for these characters, this world, and the trilogy Shyamalan is considering, but at least for now, it's good to know he's still got plenty of love for David Dunn and wants to keep and telling stories about him.
Split is now in theaters.
UPDATE: In an interview with Uproxx, Shyamalan says "I do intend on making a final Unbreakable movie and I'm intending on doing it next." He adds "It's the final movie of these two movies put together," meaning that it will tie up the loose ends from both Split and Unbreakable in one story.