'Tomb Raider' Casts 'Into The Badlands' Star Daniel Wu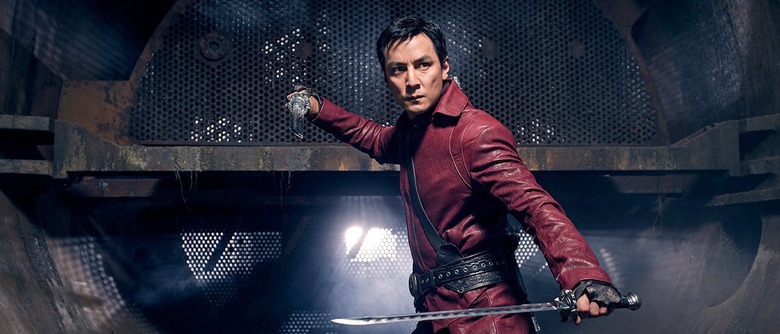 Lara Croft will have a new buddy in the Tomb Raider adaptation. Into the Badlands star Daniel Wu has just joined Alicia Vikander and Walton Goggins in the upcoming adventure, which is being directed by Roar Uthaug (The Wave). Wu is no stranger to video game adaptations, having played Gul'dan (through the power of mo-cap) in last year's Warcraft. More on the Tomb Raider Daniel Wu casting below. 
Variety broke news of the Tomb Raider Daniel Wu casting. He'll play Lu Ren, described as "a ship captain who partners with Croft on a quest to find her father." As far as I can tell, he's a character invented just for the movie. Goggins was recently set to portray the villain, though further details about that character have not been revealed. Vikander, of course, is the leading lady.
Though born and raised in the U.S., Wu first rose to fame in Hong Kong and China as a protégé of Jackie Chan's, starring in dozens of Chinese-language films over the past couple of decades. But his profile has gone up in Hollywood over the past couple of years as well. He's probably best known here as the taciturn lead of AMC's martial arts fantasy drama Into the Badlands, and he had a major role as the villain in this summer's Warcraft. His other credits include Europa Report and The Man with the Iron Fists.
The Tomb Raider reboot had been in development for years but really started to pick up steam around 2015 when Warner Bros. scooped it up. As explained by producer Graham King, film is a sort of origin story that picks up with Lara on one of her first grand adventures:
Well this is kind of what we call a 'back to the roots story'. This is a young Lara Croft in search to see if her father is dead or alive, so it has a very emotional part to it and I think that's what Alicia found so interesting about it. I think the storytelling is really good and I think we've got the right crew and a great director and I think it's going to be really fun making a film like this.
Tomb Raider hits theaters March 16, 2018.