See Updated Designs For The George Lucas Museum, Coming To Los Angeles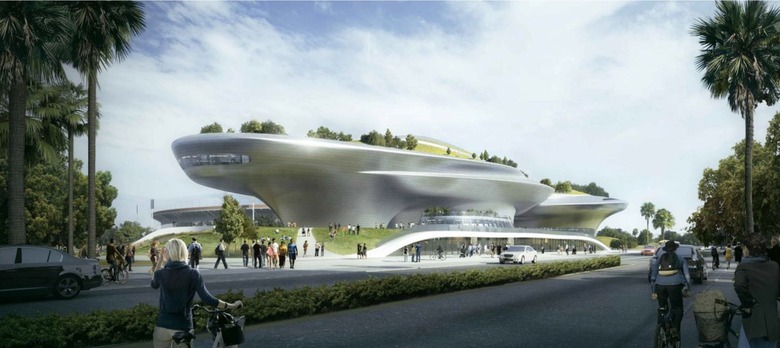 In January it was revealed that George Lucas had finally found a home for his Museum of Narrative Art in Los Angeles. A presentation to the Los Angeles City Planning Commission has unveiled new renderings for the $1-billion project. See how the project has changed since the proposal, after the jump.
The new concept art from Chinese architect Ma Yansong and planning images above were released in the new report. The George Lucas Museum will be constructed on two city-owned parking lots on Vermont Avenue south of Exposition Boulevard. Construction of the George Lucas Museum is expected to take approximately three years, beginning in January 2018 and finishing by 2021.
The Museum of Narrative Art will be a four-story, 115-foot tall building featuring 300,000 square feet of floor area split into two wings, featuring an underground parking garage across the site featuring more than 2,400 vehicle spaces capped with 11 acres of public green space. The Museum's south wing's will house the museum's archive, along with offices, classrooms and a library located above. The two wings will merge at the fourth floor, which will be the museum's primary exhibition space with additional exhibition space on the fifth floor as well as a sit-down restaurant and public roof garden.
My original story from January 10 2017 follows:

George Lucas has spent the last decade trying to find a home for his Museum of Narrative Art. The state-of-the-art pop culture museum has flirted with Chicago and San Francisco, before ultimately deciding to make Los Angeles its home.
It has been officially announced that the George Lucas Museum of Narrative Art has chosen Los Angeles as its home over San Francisco. The filmmaker has chosen L.A.'s Exposition Park, over the competing plan to build the project on Treasure Island in San Francisco Bay.
"After extensive due diligence and deliberation, the Board of Directors of the Lucas Museum of Narrative Art is pleased to announce plans to build the museum in Exposition Park in Los Angeles. We have been humbled by the overwhelmingly positive support we received from both San Francisco and Los Angeles during our selection process. Settling on a location proved to be an extremely difficult decision precisely because of the desirability of both sites and cities.
Lucas will fund the project, which is expected to cost $1 billion including construction, his art and an endowment of at least $400 million. I am so excited to see this come to fruition in my city. Between this and The Academy Museum of Motion Pictures which is currently under construction, Los Angeles has been really stepping up their pop culture tourism game.
The museum will house Lucas' extensive art collection, which consists of about 10,000 paintings and illustrations including works by Norman Rockwell, N.C. Wyeth and R. Crumb, along with paintings, props, photography, illustration, costumes, cinematic art and digital art from his Star Wars films and Hollywood classics like The Ten Commandments.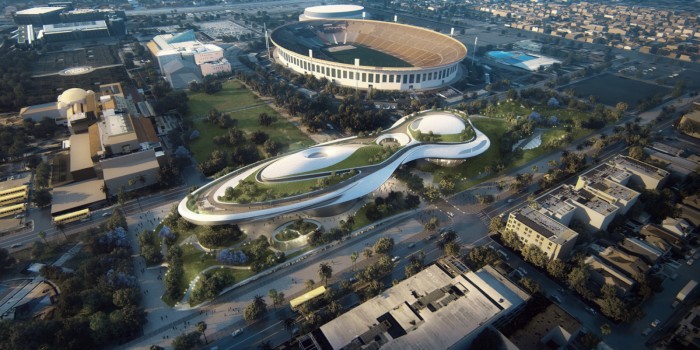 The project was originally planned for San Francisco, to be built on Crissy Field in The Presidio, but the filmmaker was unable to come into agreement with The Presidio Trust over the land in San Francisco after years of negotiation. Lucas instead planned to build the museum in Chicago on the shore of Lake Michigan, but again the project faced opposition. Friends of the Parks, a Chicago-area preservation organization, opposed the plan, citing a ban on development on the land. Lucas decided to look elsewhere, and a competition began between San Francisco and Los Angeles.
George Lucas has said the following about the museum:
The Lucas Museum will be a barrier free museum where artificial divisions between "high" art and "popular" art are absent, allowing you to explore a wide array of compelling visual storytelling. Visitors who might be less inclined to visit a traditional fine art museum will be invited to engage with and relate to art forms they recognize and love.
The Lucas Museum will "celebrate the power of visual storytelling in a setting focused on narrative painting, illustration, photography, film, animation and digital art."
One visit may change not only the way you think about museums but what you think art is. You're already familiar with narrative art, because it's the art that tells the stories you love. Our collection features the original, artist-made creations, from sketches to storyboards to sets and costumes from movies. And we showcase narrative art in paintings, illustrations, comic art, photography and many other media. We're asking you to take another look at that art with us, and appreciate it for the artistry in the storytelling. We also invite you to explore the lineage of narrative art, so you can see what art inspired today's work and artists.
The Lucas Museum will also present daily screenings of films ranging from legendary historic features to the latest features. They hope to present a lecture series featuring "the most inventive and intriguing filmmakers of our time," which should be a lot easier now that the museum will be located near Hollywood.
The Museum collection already includes:
Traditional paintings by Edgar Degas, Winslow Homer and Pierre-Auguste Renoir, as well as a broad range of original works in popular mediums such as illustration, children's art, comic art and photography from many periods and cultures. Major holdings include a large number of works by Norman Rockwell, Maxfield Parrish, and N.C. Wyeth;
An in-depth exploration of all facets of cinematic art and its design processes, including original concept art, storyboards, set design, props, costume and fashion, animation and visual effects;
Ground-breaking digital technologies and media used by artists in cinema and other art forms;
An expansive art and cinematic research library (print and digital).
The museum will be constructed on a seven-acre location in Exposition Park.