2017 BAFTA Nominations: 'La La Land', 'Arrival', And 'Nocturnal Animals' Lead The Pack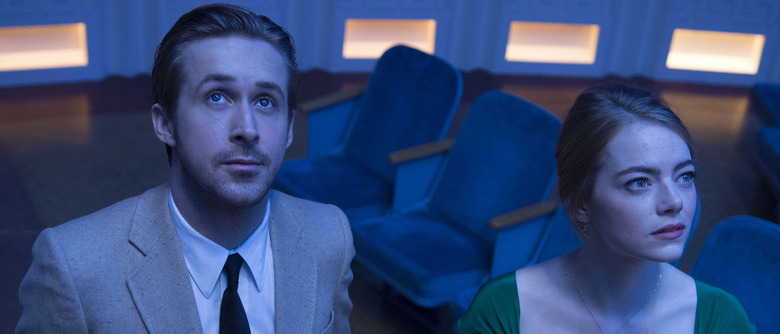 La La Land is on a roll. Just days after scooping up a record seven awards at the Golden Globes, Damien Chazelle's musical romance has picked up an impressive eleven BAFTA Awards nominations, leading this year's pack of contenders. Not far behind are Arrival and Nocturnal Animals, with nine each. Read the full list of 2017 BAFTA Awards Nominations below. 
Going into this year's awards race, La La Land, Moonlight, and Manchester by the Sea had been pegged as this year's frontrunners. Meanwhile there's only so much the BAFTA Awards can tell us about how the Oscar race will shake out, there's no denying La La Land has momentum on its side right now. Meanwhile, BAFTA voters seemed disappointingly cool on Moonlight, giving it only four nominations. Though it managed to squeeze into the Best Film category, Barry Jenkins was shut out of Best Director. On the flip side, Nocturnal Animals is doing surprisingly well.
Other notable snubs included star and director Denzel Washington for Fences (though his co-star Viola Davis snagged a nomination), the entire cast of Hidden Figures (it did get an Adapted Screenplay nod), freshly minted Golden Globe winner Isabelle Huppert for Elle, and everyone involved with Martin Scorsese's Silence. And while Ruth Negga is up for the EE Rising Star Award, neither she nor anyone else was specifically recognized for Loving.
And for those noticing that the 2017 BAFTA nominations list looks a bit... homogenous, it's worth mentioning that while the organization recently instituted a new policy excluding films that do not meet their standards for inclusivity, those new rules won't take effect until 2019.
Here's the full list of 2017 BAFTA nominations. Winners will be announced February 12.
Best FilmArrivalI, Daniel BlakeLa La LandManchester by the SeaMoonlightOutstanding British FilmAmerican HoneyDenialFantastic Beasts and Where to Find ThemI, Daniel BlakeNotes on BlindnessUnder the ShadowBest Director
Damien Chazelle, La La Land
Tom Ford, Nocturnal Animals
Ken Loach, I, Daniel Blake
Kenneth Lonergan, Manchester by the Sea
Denis Villeneuve, Arrival
Best Leading Actress
Amy Adams, Arrival
Emily Blunt, The Girl on the Train
Emma Stone, La La Land
Meryl Streep, Florence Foster Jenkins
Natalie Portman, Jackie
Best Leading Actor
Andrew Garfield, Hacksaw Ridge
Casey Affleck, Manchester by the Sea
Jake Gyllenhaal, Nocturnal Animals
Ryan Gosling, La La Land
Viggo Mortensen, Captain Fantastic
Best Supporting Actor
Aaron Taylor-Johnson, Nocturnal Animals
Dev Patel, Lion
Jeff Bridges, Hell or High Water
Hugh Grant, Florence Foster Jenkins
Mahershala Ali, Moonlight
Best Supporting Actress
Hayley Squires, I, Daniel Blake
Michelle Williams, Manchester by the Sea
Naomie Harris, Moonlight
Nicole Kidman, Lion
Viola Davis, Fences
Best Adapted ScreenplayArrivalHacksaw RidgeHidden FiguresLionNocturnal AnimalsBest Original ScreenplayHell or High WaterI, Daniel Blake
La La Land
Manchester by the Sea
Moonlight
Outstanding Debut
Mike Carey (Writer), Camille Gatin (Producer) – The Girl With All the Gifts
George Amponsah (Writer/Director/Producer), Dionne Walker (Writer/Producer) — The Hard Stop
Pete Middleton (Writer/Director/Producer), James Spinney (Writer/Director), Jo-Jo Ellison (Producer) — Notes on Blindness
John Donnelly (Writer), Ben A. Williams (Director) – The Pass
Babak Anvari (Writer/Director), Emily Leo, Oliver Roskill, Lucan Toh (Producers) – Under the Shadow
Best Film Not in the English LanguageDheepanJulietaMustangSon of SaulToni ErdmannBest Documentary13thThe Beatles: Eight Days a Week – The Touring YearsThe Eagle HuntressNotes on BlindnessWeinerBest Animated FilmFinding DoryKubo and the Two StringsMoanaZootropolisBest CinematographyArrival
Hell or High Water
La La Land
Lion
Nocturnal Animals
Best EditingArrival
Hacksaw Ridge
La La Land
Nocturnal Animals
Manchester by the Sea
Best Make Up and HairFlorence Foster JenkinsDoctor StrangeHacksaw RidgeNocturnal AnimalsRogue One: A Star Wars StoryBest Costume DesignAllied
Fantastic Beasts and Where to Find Them
Florence Foster Jenkins
Jackie
La La Land
Best Production DesignDoctor StrangeFantastic Beasts and Where to Find ThemHail, Caesar!La La LandNocturnal AnimalsBest Special Visual EffectsArrivalDoctor Strange
Fantastic Beasts and Where to Find Them
The Jungle Book
Rogue One: A Star Wars Story
Best Original MusicArrivalJackieLa La LandLionNocturnal AnimalsBest SoundArrival
Deepwater Horizon
Fantastic Beasts and Where to Find Them
Hacksaw Ridge
La La Land
Best British Short Film
Consumed
Home
Mouth of Hell
The Party
Standby
Best British Short AnimationThe Alan DimensionA Love StoryToughThe EE Rising Star Award
Anya Taylor-Joy
Laia Costa
Lucas Hedges
Tom Holland
Ruth Negga