Cool Stuff: Florey's 'The Simpsons' Screenprints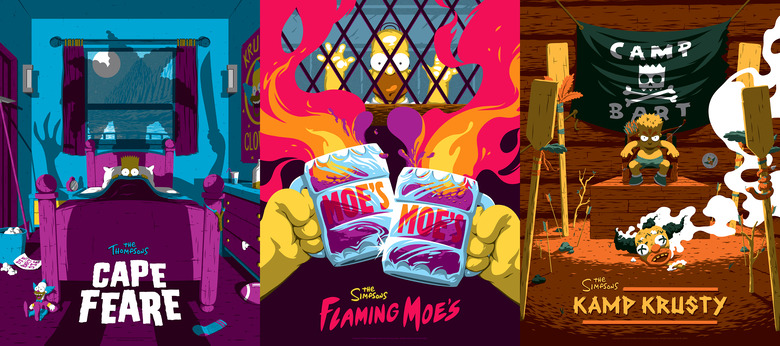 Bottleneck Gallery is once again teaming with ACME Archives, this time for a new set of screenprints based on the long-running animated series The Simpsons. Florey, whose work we have featured many times previously on the site, has produced three striking prints based on The Simpsons: Cape Feare, Flaming Moes, Kamp Krusty. Find out where and when you can buy these 18x24 screenprints, and see them in full, after the jump.
Florey's Cape Feare, Flaming Moes, Kamp Krusty are screenprinted on 18 x 24-inch paper. The regular versions, seen above, will be released in an edition of 200, available for $40 each or $115 for a matching set of three. The Variants, seen below in a different colorway, will be produced in an edition of 50 and sold for $50 each or $145 for the matching set of three. Regulars will go on sale at 12 pm eastern on Bottleneck Gallery and variants will for sale at the same time on ACME's Darkinkart.com.