'Santa Clarita Diet' Teasers: Drew Barrymore Can Eat Whoever She Wants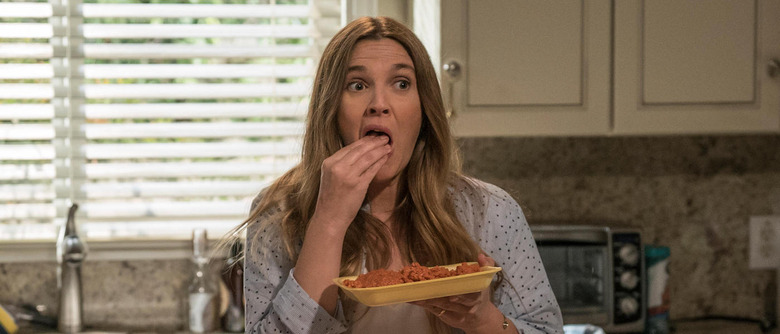 I didn't know that a Drew Barrymore / Timothy Olyphant cannibalism satire was something I needed in my life, but now that I know Santa Clarita Diet is happening I'm kind of upset it's not already here. During the Golden Globes last night, Netflix debuted the first teasers for the new series, which hails from Better Off Ted and Andy Richter Controls the Universe creator Victor Fresco. Check 'em out below. 
Santa Clarita Diet Teasers
The official synopsis for Santa Clarita Diet reads as follows:
In Santa Clarita Diet, Joel (Timothy Olyphant, Justified) and Sheila (Drew Barrymore, Blended) are husband and wife realtors leading vaguely discontented lives in the L.A. suburb of Santa Clarita with their teenaged daughter Abby (Liv Hewson), until Sheila goes through a dramatic change sending their lives down a road of death and destruction...but in a good way.
What that carefully worded summary doesn't tell you is that that Sheila's "dramatic change" is actually death, and that the reason their lives go "down a road of death and destruction" is that she returns with an insatiable hunger for flesh. But surprisingly, there's an upside for the family, as Barrymore recently revealed. "What if she finds herself, and we do this sort of Cro-Magnon type of evolution with her over the course of the 10 episodes," she said. "No gimmicks, no prosthetics, just an awakening. I just really enjoyed just shedding a snakeskin with her."
The first two Santa Clarita Diet teasers are just perfect, mimicking the form of weight loss ads. Much like the Veridian Dynamics ads from Fresco's Better Off Ted, they're so dead-on that you could easily mistake them for the real thing if you weren't listening closely enough. And speaking of Better Off Ted, I'm glad Fresco has found his way to Netflix, where he presumably won't have to worry about ratings as much as he did during his network television days. Santa Clarita Diet looks to be in the same oddball vein as his previous shows, and I can't wait to see what he's cooked up.
Santa Clarita Diet hits Netflix February 3.