'The Handmaid's Tale' Teaser: Elisabeth Moss Struggles To Survive In Hulu's Dystopia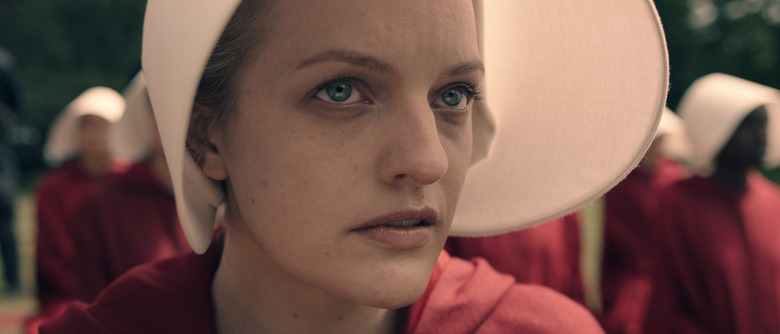 Although Hulu's been in the original programming game for a few years now, they don't seem to draw quite as much buzz as competitors like Amazon and Netflix. But they may have a chance to change that this spring, when The Handmaid's Tale arrives on the streaming service.
Based on the classic novel by Margaret Atwood, The Handmaid's Tale envisions a not-so-distant future in which the United States has been overthrown and refashioned as the Republic of Gilead, a theocratic dictatorship guided by "traditionalist values." Moss is Offred, a "handmaid" given to a powerful government official (Joseph Fiennes) to bear his children. Watch the new The Handmaid's Tale teaser below. 
The Handmaid's Tale Teaser
Although The Handmaid's Tale was published thirty years ago, its themes might be more chillingly relevant than ever. One of the most striking aspects of the novel is how quickly the country transforms. Offred is young and healthy enough to be fertile (making her body especially valuable in a world marked by a rapidly declining birthrate), but old enough to have had a husband and child before the revolution. She's been separated from her family since the transfer of power, and longs to be reunited with them or at least hear news of them.
It's hard to think of a more perfect leading lady for The Handmaid's Tale than Moss, who's made a career out of playing steely women in feminist TV shows like Mad Men and Top of the Lake. The cast surrounding her includes Yvonne Strahovski as Serena Joy, the wife of the Commander (Fiennes); Samira Wiley as Moira, Offred's friend and a fellow Handmaid; Max Minghella as Nick, a driver who works in the Commander's household; and Ann Dowd as Aunt Lydia, a woman who helps indoctrinate the Handmaids.
The Handmaid's Tale arrives April 26 on Hulu.
Adapted from the classic novel by Margaret Atwood, The Handmaid's Tale is the story of life in the dystopia of Gilead, a totalitarian society in what was formerly the United States. Facing environmental disasters and a plunging birthrate, Gilead is ruled by a twisted fundamentalism in its militarized 'return to traditional values'. As one of the few remaining fertile women, Offred (Elisabeth Moss) is a Handmaid in the Commander's household, one of the caste of women forced into sexual servitude as a last desperate attempt to repopulate the world. In this terrifying society, Offred must navigate between Commanders, their cruel Wives, domestic Marthas, and her fellow Handmaids – where anyone could be a spy for Gilead – all with one goal: to survive and find the daughter that was taken from her.