'Powerless' Promo: NBC's New Superhero Show Isn't Exactly A Superhero Show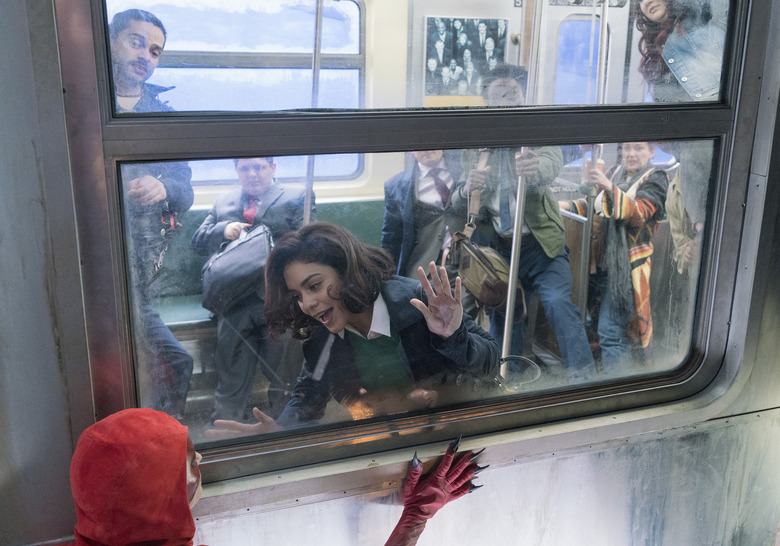 After a superhero leaves a city in ruins after some epic brawl, rarely do you hear them offering to help pick up the pieces. They save the day and get to go home, leaving behind plenty of arduous work behind for the average joes. Heroes and villains' tendencies to historical landmarks and put people in harm's way keep folks like Emily (Vanessa Hudgens), Del (Alan Tudyk), and Teddy (Danny Pudi) busy in NBC's new comedy, set in its version of the DC universe. Expect easter eggs galore.
Below, watch the Powerless promo.
The Ben Queen-created series revolves around a group of Wayne Security employees. Emily was written as a claims adjuster who finds great satisfaction in helping those harmed or impacted by "super-related" destruction, but the character and show might've recently gone in a different direction. Originally, Vanessa and the group worked at an insurance company, but last month it was announced the show follows employees of Wayne Security, a subsidiary of Wayne Enterprises. According to the synopsis, they now "specializes in products that make defenseless bystanders feel a little safer."
Here's the Powerless promo:
Meet the super people behind the superheroes! #Powerless pic.twitter.com/XhwDbXzACi

— Powerless (@NBCPowerless) January 5, 2017
NBC showed the previous pilot at Comic-Con last year, where our own Angie Han had a chance to see it. She was a fan, writing that, "By dialing the stakes all the way down, Powerless adds a sweet human touch to the superhero genre":
If references were all Powerless had to offer, it'd get old quick. But Powerless also works as a more typical office comedy. Tudyk is the obvious standout in the first episode, as the kind of archnemesis we've all had – the petty boss who believes fear and respect are the same thing. ("I respect spiders," he argues.) Pudi is in his comfort zone as the pop culture-savvy officemate, though I'm hoping his relationship with Emily will develop into something more interesting than the overused "unrequited crush" trope. And the battle at its center works precisely because the fate of the world is never at stake. The good people of Retcon Insurance are just trying to help others like themselves, one check at a time.
However, the pilot has clearly been reshot since then to incorporate significant changes into the premise. So we'll have to wait and see how this one turns out.
Powerless premieres on February 2nd on NBC.