'The Space Between Us' Trailer: Asa Butterfield Visits Earth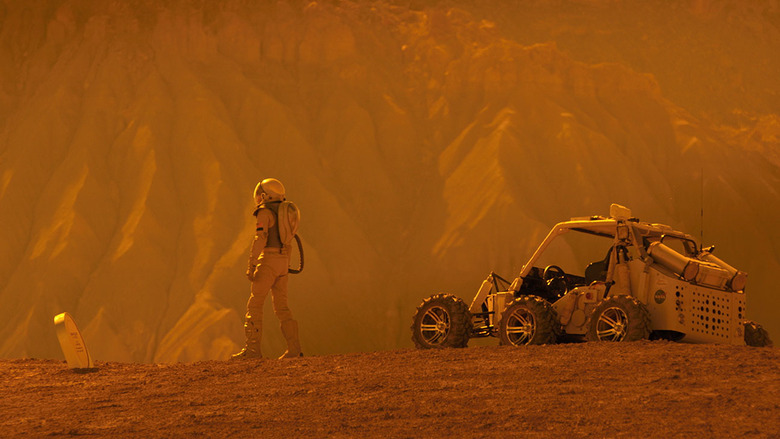 The Space Between Us, the teen sci-fi romance starring Asa Butterfield and Britt Robertson, was originally scheduled to come out last month, but it got pushed back to this February. The fish-out-of-water story sends a Martian, a teenager who was born on Mars, to Earth for the first time, where he'll look for his father with a little assistance from an Earthling friend.
Below, watch the very earnest new trailer for The Space Between Us.
Gardner Elliot's (Butterfield) mother was an astronaut who didn't realize she was pregnant until after she set out on a mission to colonize Mars. Gardner is the first child born on the red planet, where he grows up in a community of 15 people. The only person he knows on Earth is his online pen pal, Tulsa (Robertson), a high school student living in Colorado. Gardner pays a visit to his friend, and Tulsa decides to help him search for his father. Director Peter Chelsom's (Serendipity) film co-stars Carla Gugino and Gary Oldman as a curmudgeonly doctor who just won't let Gardner enjoy Earth.
Here's the new The Space Between Us trailer:
I'm sure Gary Oldman will be good in this movie — he is Gary Oldman, after all — but the bits with him in this trailer are oddly forced. Not in terms of acting, just in how his shots disrupt the rhythm of the trailer. Oldman shows up almost looking like he's from a different film, wandering into a teen movie.
Here's the official synopsis for The Space Between Us:
In this interplanetary adventure, a space shuttle embarks on the first mission to colonize Mars, only to discover after takeoff that one of the astronauts is pregnant. Shortly after landing, she dies from complications while giving birth to the first human born on the red planet – never revealing who the father is. Thus begins the extraordinary life of Gardner Elliot – an inquisitive, highly intelligent boy who reaches the age of 16 having only met 14 people in his very unconventional upbringing.
While searching for clues about his father, and the home planet he's never known, Gardner begins an online friendship with a street smart girl in Colorado named Tulsa. When he finally gets a chance to go to Earth, he's eager to experience all of the wonders he could only read about on Mars – from the most simple to the extraordinary. But once his explorations begin, scientists discover that Gardner's organs can't withstand Earth's atmosphere.
Eager to find his father, Gardner escapes the team of scientists and joins with Tulsa on a race against time to unravel the mysteries of how he came to be, and where he belongs in the universe.
The Space Between Us opens in theaters February 3rd.