'Cruel Intentions' Musical Coming To New York City Next Month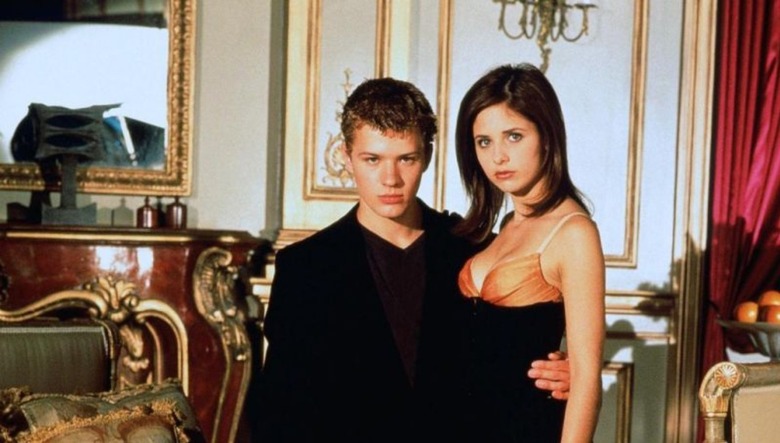 The death of the Cruel Intentions television show was recently confirmed, but on the bright side, the musical based on the 1999 film is carrying on and heading to New York City. Lindsey Rosin and Jordan Ross' Cruel Intentions musical was first performed two years ago at Los Angeles' Rockwell Table & Stage, but East Coasters will finally get a chance to see the parody at (Le) Poisson Rouge.
Below, learn more about the Cruel Intentions musical.
According to The Hollywood Reporter, the Cruel Intentions musical will be performed on February 11th, 13th, and 14th. The musical features songs from the film's very '90s soundtrack, which featured Placebo, Blur, Aimee Mann, Counting Crows, and The Verve, and the cast even sings other '90s hits, like Alanis Morissette's "You Oughta Know" and Christina Aguilera's "Genie in a Bottle." Most of the reviews I've read are enthusiastic, calling the musical a good time, so if you're a fan of the movie based on the 1782 novel Les Liaisons dangereuses, you may want to check the musical out when it comes to New York.
The show was performed a second time in L.A. in 2016 at the Prospect Theater, with Katie Stevens (Faking It) returning to the role of Kathryn. The film's stars, Sarah Michelle Gellar, Selma Blair, Reese Witherspoon, Ryan Philippe, and writer-director Roger Kumble attended performances of the musical. Kumble, in particular, was a fan of the musical, and he later went on to collaborate with Rosin and Ross on the Cruel Intentions television series.
In a statement to THR, Ross said she's excited to see Kathryn and Sebastian return to New York:
The idea was always to head to New York — it's like bringing Kathryn and Sebastian back home. We hope this is a starting point for a bright future for the show.
Rosin added:
We thought Valentine's Day would be a great time to go to New York and break a couple hearts. Hopefully in the coming months and in the future, we can mount a full production in New York
Ross and Rosin imagine more performances of the Cruel Intentions musical happening Off-Broadway. If all goes according to plan, the shows at (Le) Poisson Rouge are an introduction and another venue will be found for other future performances. Some actors who previously appeared in the musical are returning, but the upcoming run of the Cruel Intentions musical will also feature NYC-based actors.