Star Wars Rebels Season 3 Trailer Teases EPIC Rematch From The Live-Action Movies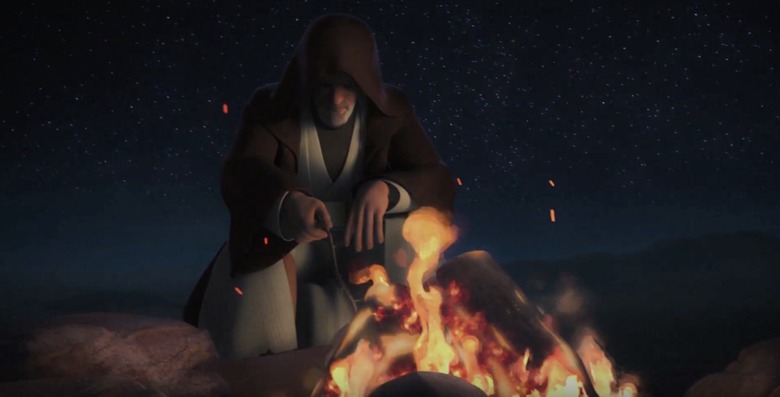 Disney XD have released a mid-season trailer Star Wars Rebels Season 3, which teases an epic confrontation between two major characters from the Star Wars prequels. Hit the jump to watch the Star Wars Rebels Season 3 mid-season trailer.
Star Wars Rebels Season 3 Mid-Season Trailer
This whole season has been building up to this. What has Darth Maul been after? What does a planet with two suns have to do with it? This trailer gives us a glimpse at the upcoming epic confrontation between Darth Maul and Obi-Wan Kenobi. Remember, Kenobi was the one who chopped Maul in half at the end of Star Wars: The Phantom Menace. It looks like the former Sith apprentice may be after revenge. The Rebels are trying to figure out what the Empire is hiding, but as we know, they won't learn about the Death Star until Rogue One.
The trailer also gives us our first look at Mon Mothma in the Star Wars Rebels universe. Grand Admiral Thrawn is trying to uncover the Rebel spy hidden within his midst while trying to put an end to the growing Rebel threat. We also see Sabine returning to her Mandalorian home with the newly introduced dark saber. And it looks like we're finally going to see some females kicking huge ass on this show, which is much anticipated. The trailer also teases Saw Guerrera's role in the upcoming episodes, fighting alongside the Rebels and fellow Clone Wars veteran Rex.
But yeah, the rematch between Kenobi and Maul is all I can think about right now. We know that Kenobi survives to help Luke Skywalker in A New Hope, while there is no sign of Maul in the original trilogy. So we can only assume he loses, but how? I also think that having this confrontation in the animated series takes away a big reason to do a Kenobi standalone Star Wars story. If you think about it, an anthology movie set between Revenge of the Sith and A New Hope would have to be about him protecting Luke from afar on Tatooine.
Disney has also released the following images from Ghosts of Geonosis, Parts One and Two, which will air back-to-back on January 7th at 8:30 p.m. ET on Disney XD. If you remember what part Geonosis played in the creation of the Death Star, then you can probably figure out that this episode could explain some big canon questions.
The official synopsis follows:
Hope. Revenge. Rebellion. See what's to come in the rest of Star Wars Rebels Season Three in this thrilling mid-season trailer. The crew returns to Geonosis in search of a missing rebel team sent to investigate suspicious activity there, and they are surprised by what they find. After finding a missing rebel team member, the Ghost crew discovers another surprise on Geonosis, and they work to conceal it from Imperial forces. Forest Whitaker, who stars as Rebel freedom fighter Saw Gerrera in "Rogue One: A Star Wars Story," provides the voice of the character as he makes his debut on "Star Wars Rebels" this SATURDAY, JANUARY 7 (8:30-9:30 p.m. EST) on Disney XD.
Star Wars Rebels airs on Saturday nights on Disney XD.