Josh Whitehouse Is, Like, Totally Starring In The 'Valley Girl' Remake?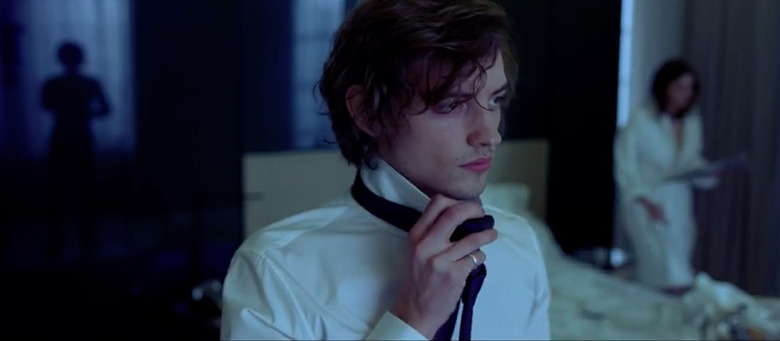 Nicolas Cage is very charismatic in Valley Girl. Martha Coolidge's charming 1984 love story benefits greatly from his often endearing performance and goofy haircut. It's not one of Cage's more famous roles, so when it comes to the remake, its star, Josh Whitehouse, doesn't exactly have a large shadow cast over him. But hopefully he'll be able to bring as much energy and fun to the punk rock character as Cage did.
Below, learn more about the Valley Girl remake star.
Whitehouse is an actor, model, and musician. As reported by Deadline, he'll play Randy, who's "a badass punk rock musician and leader of the band the Propheteers, who falls hard for a squeaky-clean upscale girl from the Valley." Back in November Jessica Rothe signed on to play Julie, the kindhearted Valley girl played by Deborah Foreman in the original film. Rothe co-starred as one of Mia's (Emma Stone) in La La Land and stars in MTV's stoner comedy, Mary + Jane.
Whitehouse can be seen in the BBC series Poldark and made his acting debut with a supporting role in the Steve Coogan-led Northern Shore, but you'd more likely recognize him from a recent Burberry campaign. Whitehouse helped sell one of their fragrances, partly by appearing in a short film directed by the brilliant Steve McQueen (12 Years a Slave).
Here's McQueen's short film, which is slightly NSFW:
Back in 2012, bankruptcy be damned, MGM placed the Valley Girl musical on the "fast track." Since then, the project has undergone some changes. For starters, commercial director Clay Weiner (Fred: The Movie) is no longer directing the remake, Rachel Lee Goldenberg is. Goldenberg directed the Will Ferrell and Kristen Wiig Lifetime movie, A Deadly Adoption, episodes of Z Nation and The Mindy Project, and has produced plenty of Funny or Die content. Author and screenwriter Amy Talkington (Night of the White Pants) wrote the remake, while UnREAL co-creator Martin Noxon did some revisions.
The original Valley Girl has a pretty memorable soundtrack, featuring songs from Modern English, Josie Cotton, Payolas, The Plimsouls, and Bonnie Hayes. Years ago, it was reported the remake would feature actors performing "'80s New Wave tunes from bands like The Go Go's and The Cars." Whether that remains the plan is unknown but we do know Goldenberg starts shooting her film in Los Angeles sometime early this year. No other actors are currently attached to the musical.