Woody Harrelson Officially Confirmed For 'Han Solo' Spinoff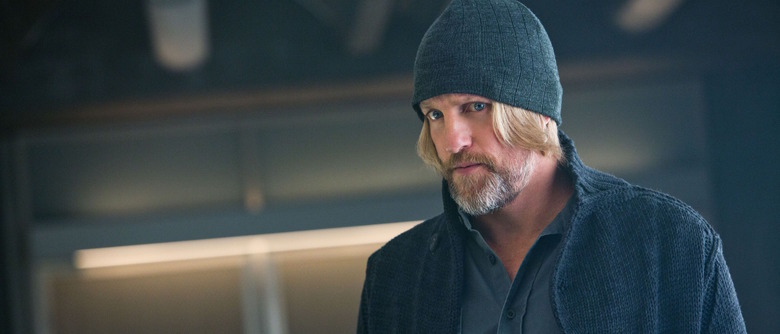 UPDATE: Woody Harrelson has officially been confirmed for the Han Solo spinoff. Read the full press release below. Also, read our speculative analysis of
which character Woody Harrelson might be playing in the Han Solo movie
.
Woody Harrelson seems to be building a nice career for himself as the go-to guru for difficult young people. After guiding Katniss Everdeen through a revolution in The Hunger Games and Nadine through adolescence in The Edge of Seventeen, Harrelson is in early talks to play an early mentor of Han Solo's in the upcoming Star Wars spinoff, which is being directed by Phil Lord and Chris Miller. The movie has already set
The movie has already set Donald Glover as Lando Calrissian, Emilia Clarke as an unnamed female lead, and Alden Ehrenreich as the scruffy-looking nerf herder himself.
News of the potential Han Solo Woody Harrelson casting comes from
, which cautions that talks are still in the early stages and that nothing is official at this point. However, according to their sources, Harrelson emerged as the top choice in a search that
. While Ehrenreich, Glover, and Clarke all young stars on the rise, the studio apparently wanted a more established actor for this particular role.
Harrelson has been very busy since The Hunger Games franchise ended in 2015. He appeared in Triple 9, Now You See Me 2, LBJ, and The Edge of Seventeen last year, and has War for the Planet of the Apes, Wilson, The Glass Castle, and Three Billboards Outside Ebbing, Missouri all planned for this year.
Details on the plot of the Han Solo spinoff movie are being kept under wraps for now, though we do know it'll be set before the events of Star Wars: A New Hope. Shooting is expected to begin this month. No additional information has been given about Harrelson's possible character in the film, and we don't know if he'll be playing a previously established character or a brand new one. As of now, the spinoff is scheduled to land in theaters May 25, 2018, although rumors have been going around recently that Disney could push back the release to December.
UPDATE:
Here is Disney's full announcement
 about Harrelson joining the cast.
Veteran film and television actor Woody Harrelson is stepping aboard the upcoming Han Solo movie set to arrive in theaters next year.
Harrelson, known for wide-ranging roles in film and TV such as The Hunger Games, No County For Old Men, True Detective, Cheers, and Zombieland, will join actors Alden Ehrenreich (Han Solo), Donald Glover (Lando Calrissian), and Emilia Clarke in the adventure. This Star Wars Story is the second in a series of films that live outside the Skywalker family saga, and is set during the early scoundrel days of the iconic characters, prior to A New Hope.
"We couldn't be more excited to work with an artist with as much depth and range as Woody," said the film's directors Phil Lord and Christopher Miller. "His ability to find both humor and pathos, often in the same role, is truly unique. He is also very good at ping pong."
The as-yet-untitled movie, which is being produced by Kathleen Kennedy, Allison Shearmur, and Simon Emanuel, is scheduled for release in 2018.