Akiva Goldsman And 'Deadpool' Creator Rob Liefeld Developing Movies Based On Extreme Universe Comics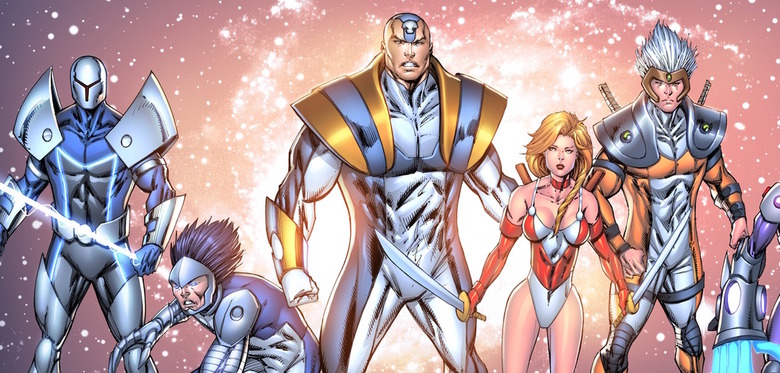 It's probably a pretty good day for Deadpool creator Rob Liefeld. Mega producer Graham King and Fundamental Films have partnered up and locked up the rights to the writer's Extreme Universe, for an estimated price in the seven-figure range. King is teaming up with screenwriter and producer Akiva Goldsman to attempt to turn the Extreme Universe into a franchise.
Below, learn more about possible Extreme Universe movies.
The Extreme Universe includes nine comic book titles and over 100 characters. There's Bloodwulf (an alien bounty hunter), Battlestone (a mutant a part of Liefeld's Youngblood and Brigade teams), and Re-Gex (a group of cyborg and mutants), to name a few. The Universe also includes Brigade, Bloodstrike (a project that was in the works years ago), Cybrid, Lethal, Nitro-Gen, and Baboom. According to Deadline, these characters and comics have a tone and attitude similar to Deadpool.
In a statement, Liefeld said:
Over the past nearly 25 years, since launching Image Comics, I've been lucky enough to see the power of these stories and characters as they've resonated with several generations of comic book fans. To now be able to work with Akiva Goldsman and Graham King, who are powerhouses in their own right, to bring these compelling characters and conflicts to life on the big screen is nothing short of a dream come true!
King, who's currently busy with the Tomb Raider adaptation, added:
Rob has an uncanny ability to create unique stories with unforgettable characters and EXTREME UNIVERSE is no exception. These stories are fantastic and I couldn't imagine better partners on this project than [Chairman] Mark [Gao] and his team at Fundamental Films.
Fundamental Films is based in Shanghai. They own a significant portion of Luc Besson's production company, EuropaCorp, and are releasing Valerian and the City of a Thousand Planets in China this upcoming summer. As for Goldsman, whose Weed Road Productions is involved in the Extreme Universe, this news marks the third writer's room he's running. The Academy Award-winning screenwriter, who made his directorial debut with Winter's Tale, already leads the Hasbro and Transformers writers room. Goldsman has taken a liking to Liefeld's stable of characters and worlds because he's reportedly also looking to direct Avengelyne, the story of an angel banished to Earth.