'The Founder' Trailer: Michael Keaton Builds A Fast Food Empire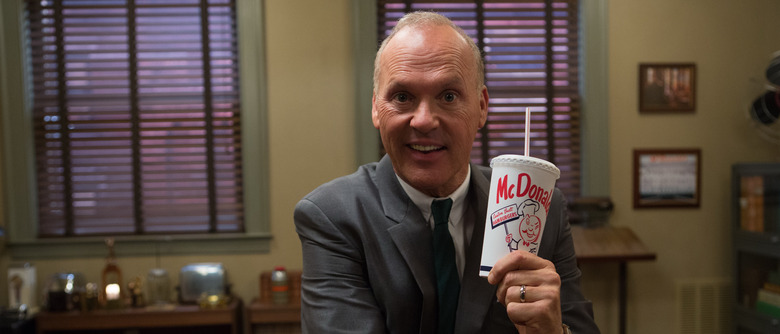 Technically, The Founder has already hit in theaters, but with a limited run so small and so haphazard you likely didn't even know it happened. Fortunately, it's about to get a much wider release in the coming weeks. And this time, there's a trailer and everything so you can get ready to dig in.
Directed by John Lee Hancock (Saving Mr. Banks) from a script by Robert Siegel (The Wrestler), The Founder chronicles the dizzying rise of Ray Kroc — a struggling salesman who transformed McDonald's from a tiny burger operation in Southern California into the gazillion-dollar global empire that it is today. It will probably not surprise you to learn that he pissed a lot of people off and made a lot of enemies and maybe lost his soul along the way. Watch the latest The Founder trailer below. 
The Founder Trailer
The Weinstein Company clearly had Oscar ambitions for The Founder at one point, but seems to have let go of them over the past several months. Aside from that brief awards-qualifying run last month, it doesn't seem like they've been they've been pushing this one too hard. Which is too bad, because I think it looks pretty intriguing. Sure, the story seems to be one we've seen plenty of times before in films like Steve Jobs and The Social Network. But Keaton's intensity and charisma seem to be put to very good use here, and John Carroll Lynch, Nick Offerman, and Laura Dern make for one hell of a supporting cast.
The Founder opens wide on January 20.
Directed by John Lee Hancock (SAVING MR. BANKS), THE FOUNDER features the true story of how Ray Kroc (Michael Keaton), a struggling salesman from Illinois, met Mac and Dick McDonald, who were running a burger operation in 1950s Southern California. Kroc was impressed by the brothers' speedy system of making the food and saw franchise potential. Writer Robert Siegel (THE WRESTLER) details how Kroc maneuvered himself into a position to be able to pull the company from the brothers and create a billion-dollar empire. The film also stars Laura Dern as Ray Kroc's first wife Ethel; John Carroll Lynch as Mac McDonald and Nick Offerman as Dick McDonald.