'Una' Trailer: In Which Ben Mendelsohn Plays An Even Worse Human Being Than Usual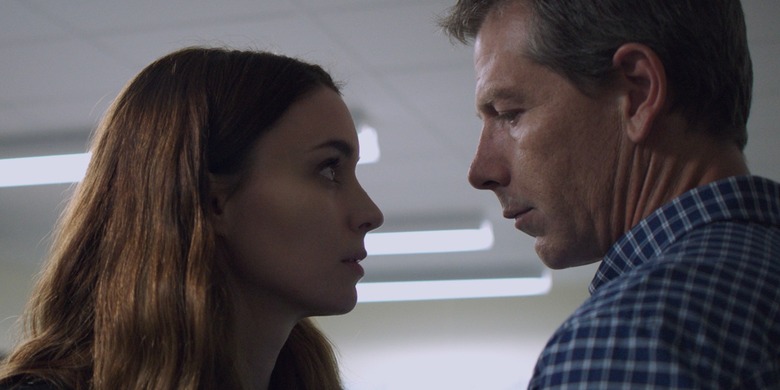 Ben Mendelsohn has made quite a name for himself playing villains, criminals, deadbeats, and other unsavory types in everything from Animal Kingdom to Rogue One: A Star Wars Story over the past few years. But Una may give him his most unsettling role yet.
Directed by Benedict Andrews from a script by David Harrower (who also wrote the play it's based on), Una stars Rooney Mara as a young woman who sets out to confront the man who abused her years ago. Mendelsohn plays that man, who has since managed to rebuild his life under an assumed name. Riz Ahmed co-stars as his co-worker. Surprise! Bet you weren't expecting a Star Wars reunion in a harrowing sex abuse drama. Watch the Una trailer below. 
Una also stars Ruby Stokes as a younger version of Mara, and Game of Thrones vets Indira Varma, Tara Fitzgerald, and Tobias Menzies are among the supporting cast. Really, though, this is a two-hander for Mendelsohn and Mara. And having caught the film at TIFF, I can tell you that the performances are exactly as riveting as you'd expect from a meeting of these two talents. Which is fortunate, since this film gets pretty difficult to watch at times. While there's never any question that Ray is the perpetrator and Una his victim, the film's queasy power lies in its portrayal of both leads as painfully, messily human.
Una opens later this month in some international markets, but does not have distribution in the U.S. yet. Here's a synopsis from TIFF:
A psychological thriller with elements of a revenge plot, this intense character-driven film is rooted in its performances. Rooney Mara (also at the Festival in Lion and The Secret Scripture) is the titular Una, and Ben Mendelsohn is Ray, the neighbour who sexually assaulted her when she was 13. A decade later, Una tracks Ray down in search of answers — but she doesn't find the ones she's searching for. Uncomfortable with the path she's set out on, but unable to change course, Una must face the fact that Ray is now, in many ways, a different person from the man who abused her. But he still refuses to accept responsibility, and her anger has not abated.