'A Series Of Unfortunate Events' Promo: ''Do You Really Want To Sit Through Every Horrid Episode?''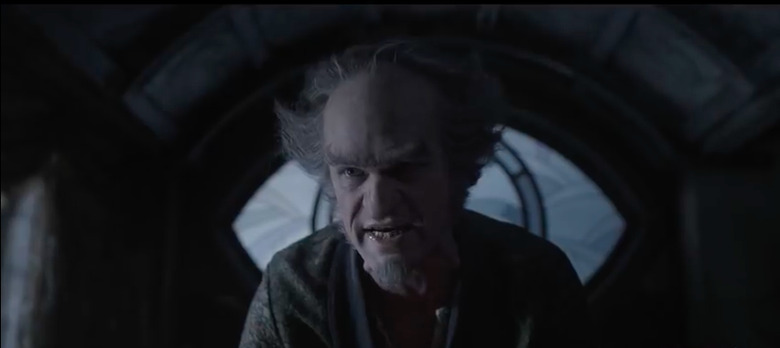 Not enough moviegoers embraced Brad Silberling's A Series of Unfortunate Events movie to launch a franchise, but perhaps we'll finally get to see entire 13-part story adapted with Netflix's upcoming series, which continues to look promising. The marketing materials have focused a little more on the comedic and heightened elements of author Daniel Handler's books, not so much the bleakness of the Baudelaire children's predicament. But this promo, featuring Lemony Snicket (Patrick Warburton), is here to remind you of the hardship and danger they'll face in the series.
Below, check out the Lemony Snicket's A Series of Unfortunate Events promo and new images from the series.
The show comes from showrunner Mark Hudis (True Blood) and executive producer/director Barry Sonnenfeld (Men in Black), who was once attached to direct the film adaptation. Netflix has three seasons in mind, with two episodes typically adapting one of the novels. The story follows Violet (Malina Weissman), Klaus (Louis Hynes), and Sunny Baudelaire after their parents die in a tragic and mysterious fire, leaving them in the custody of Count Olaf (Neil Patrick Harris), a monster of a man who will stop at nothing to steal the children's fortune.
Here's the Lemony Snicket's A Series of Unfortunate Events promo:
Warburton continues to appear exceptionally well cast as the story's narrator, Lemony Snicket. The actor's great and distinct comedic timing is obviously being put to good use.
Here is a big batch of new images from the series as well:
Some of these pictures tease a much broader take than Silberling's film, which is saying something considering how large Jim Carrey's performance is in that film. Olaf's costumes are even more exaggerated this time around it seems. We'll soon see how else Netflix's version of A Series of Unfortunate Events compares to Silberling's beautifully crafted film, a slightly overlooked movie with a big heart, lavish visuals, and a terrific ending.
Here's the official synopsis for Netflix's upcoming series.
Based on the internationally best-selling series of books by Lemony Snicket (aka Daniel Handler) and starring Emmy and Tony Award winner Neil Patrick Harris, A Series of Unfortunate Events recounts the tragic tale of the Baudelaire orphans — Violet, Klaus, and Sunny – whose evil guardian Count Olaf will stop at nothing to get his hands on their inheritance. The siblings must outsmart Olaf at every turn, foiling his many devious plans and disguises, in order to discover clues to their parents' mysterious death. The eight-episode series is a Netflix original production, executive produced by Emmy Award winner Barry Sonnenfeld and Daniel Handler, and premieres January 13, 2017 only on Netflix.
A Series of Unfortunate Events is available to stream starting January 13th.