Michael Fassbender Plays A Slightly Less Egotistical And Murderous Android In 'Alien: Covenant'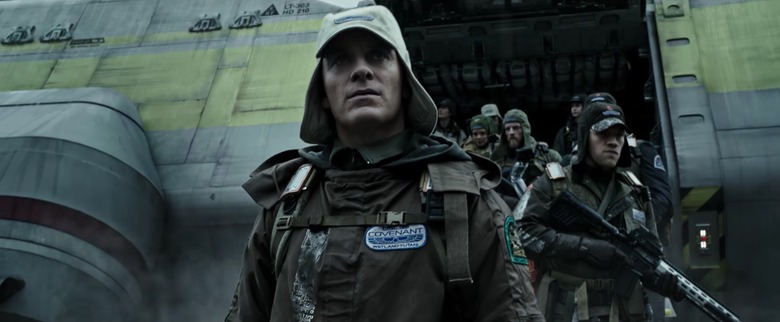 Prometheus polarizes plenty of Alien fans, but we can all likely agree Michael Fassbender's performance is not one of that film's problems. David is curious, darkly funny, sinister, and, despite being an android, has the most interior life among thew crew of the Prometheus. We'll see David return in next summer's Alien: Covenant, but as we know, he's not the only android played by Fassbender in Sir Ridley Scott's sequel.
Below, Michael Fassbender discusses his new Alien Covenant android and what to expect from him.
Alien: Covenant takes place ten years after the events of Prometheus and follows the crew of the colony ship Covenant, which has discovered a promising new planet. When they land, they run into a little trouble, thanks to the new Xenomorph, called the "Neomorph," causing all sorts of trouble.
As previous Alien films have taught us, an android can cause as many problems as a pesty, bloodthirsty alien, but it doesn't sound like the new android played by Fassbender, named Walter, has nefarious motivations. While speaking with Comigsoon.net, the actor described the differences between the "work-in-progress" David and Walter:
I think Walter's a real different kettle of fish. David was definitely a work-in-progress, somewhat of a prototype I suppose. The elements of him that were the human elements I think people found a little disturbing, so Walter's more of a straightforward robot. Pretty logical, much more of a servant without the ego.
It's still unclear how exactly David crosses paths with the crew of the Covenant. Based on the trailer, it's speculated that the older model robot is on the planet the colony ship goes to and has been keeping busy doing a little experimenting, but that's unconfirmed. Our own Angie Han recently saw some footage from Alien: Covenant, and despite not learning how David figures into Alien: Covenant, she wrote: "Michael Fassbender's performance looks just as chilling as it did in Prometheus."
Here's the official synopsis:
Set as the second chapter in a prequel trilogy that began with Prometheus, Alien: Covenant connects directly to Ridley Scott's 1979 seminal work of science fiction. It begins with the colony ship Covenant, bound for a remote planet on the far side of the galaxy. There, the crew discovers what they think is an uncharted paradise, but is actually a dark, dangerous world — whose sole inhabitant is the "synthetic" David, survivor of the doomed Prometheus expedition.
Alien: Covenant opens on May 19th, 2017. If you want to know more about the film, check out Peter's trailer breakdown and while you're at it, why not give the excellent trailer another watch?