'Homeland' Season 6 Will Address A Key Brody Question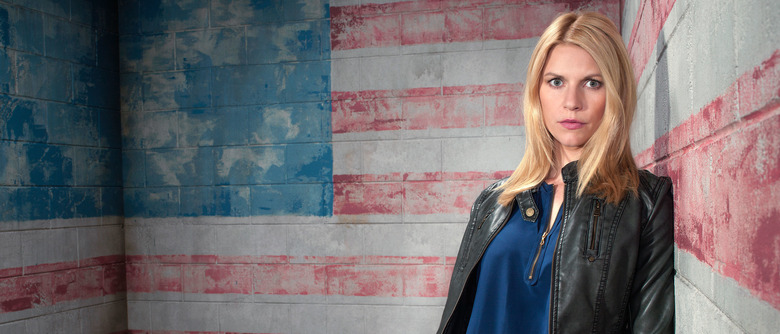 Homeland showrunner Alex Gansa has discussed some of the changes we should expect from season six of the acclaimed drama. Gansa is scaling back the depiction of terrorism, and the upcoming season "exists in a much more psychological way." Maybe playing a role in the more psychological approach is how the show will handle a question involving, Carrie Mathison (Claire Danes), her daughter Frannie, and Nick Brody (Damien Lewis).
Below, learn some Homeland season six story details (spoilers ahead).
Season 6 of Homeland drops Carrie in New York, where she's working for a foundation providing aid to Muslims in the States. The story takes place between election day and the inauguration, and Daine's character finds herself in danger yet again. The next president (Elizabeth Marvel) is calling for a "wholesale reform of the CIA," which doesn't sit well with Saul (Mandy Patinkin) and Dar Adal (F. Murray Abraham).
Frannie's father is Nick Brody, who died in the season three finale. This season of Homeland features an older Frannie, so she'll soon begin to question who her father is, according to executive producer Chip Johannessen (Source: TVLine):
One thing that surfaces this season is the question of who her father was. I actually just got done writing a scene for Episode 9 that serves as kind of a follow-up to a monologue [Carrie delivered to Frannie] in Season 4, in which she got her up to speed on who her father was.
Season six will depict more of Carrie's role as a mother, most notably the question of whether she's a bad mother. One scene that riled some fans up was in the season four premiere when it looked like the character was considering letting Frannie drown in a bathtub.
Johannessen was the one wrote that scene:
I wrote that episode, but [the writing team] breaks all the stories together, and [the bathtub scene] was someone else's idea. I ended up getting a lot of flak for that.
The executive producer made clear we won't see the character consider such an awful thought in the upcoming season. Danes previously stated Carrie struggles deeply with guilt in season six, as she tries to find some sense of normalcy in her life. In addition to Brody and Frannie's connection, fans of Homeland should also expect to see more of the show's protagonist's relationship with Peter Quinn (Rupert Friend), who is in a terrible state after the events of the season five finale.
Here's the official synopsis:
After she thwarted a terrorist attack in Berlin, season six picks up several months later and finds Carrie Mathison (Danes) back on American soil, living in Brooklyn, New York. She has begun working at a foundation whose efforts are to provide aid to Muslims living in the U.S. Season six will tackle the after effects of the U.S. presidential election, with the entire season taking place between election day and the inauguration. It's a strange, transitional time in the halls of government filled with anxiety and different competing interests, where a very fragile and complex transfer of power takes place between the outgoing president and the incoming president-elect.
Homeland Season 6 premieres on January 15th, 2017.