'The Expanse' Season 2 Teasers: Earth And Mars Are Ready To Rumble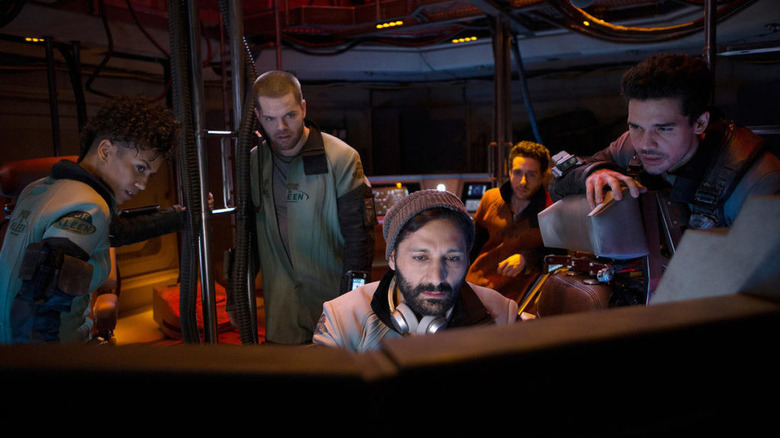 The war between Earth and Mars is brewing. The two dominant planets are at odds 200 years or so into the future on Syfy's The Expanse, which returns for its second season next February. While two worlds — and The Belters, the exploited underclass — remain on the brink of war, Detective Joe Miller (Thomas Jane) and the Rocinante crew get caught up in a conspiracy.
Below, watch The Expanse season two teaser trailers.
Season two of The Expanse features 13 hourlong episodes, unlike season two's 10 episodes. The show is an adaptation of the sci-fi novels from James S.A. Corey, authors Daniel Abraham and Ty Franck's pen name. Earth, Mars, and The Belt, which has desirable resources (air and water), are still dealing with issues that plague society today. Showrunners Mark Fergus and Naren Shankar, known for their work on the Children of Men script, and actors Cas Anvar, Wes Chatham, Shohreh Aghdashloo, Steven Strait, and others return for season two of The Expanse.
Here are The Expanse season two teaser trailers:
Critics and Syfy's audiences embraced The Expanse's first season. Before the series even debuted, the network released the pilot online, where 1.5 million viewers watched it in one week. Once the show hit television, the ratings remained nice and steady. On average, the show attracted 1.6 million viewers during its first season. There's plenty of time to watch the first ten episodes before the two-episode season two premiere, as The Expanse is currently available to stream on Syfy's site and Amazon Prime.
If there's one reason to give the series a shot if you haven't yet, it's Thomas Jane, who rocks that funky sci-fi haircut far better than the rest of the world would. The last TV series the actor starred in was Hung, the short-lived, slightly inconsistent but mostly charming HBO comedy. He's starred in plenty of projects that don't match the strong quality of his work, so it's good to see The Expanse is performing well with critics and Syfy's audience.
Here's the synopsis:
This hour-long, ten episode series is based on the popular New York Times bestselling book series collectively known as The Expanse, written by Daniel Abraham and Ty Franck (under the pen name James S. A. Corey). Abraham and Franck will be show producers. The multi-installment, best-selling book series is published in 17 countries, including China, France, Japan, Australia, Canada, Germany and the United Kingdom. One in the series, Leviathan Wakes, was nominated for a Hugo Award as well as a Locus Award, while "Caliban's War" was nominated for a Locus Award.
The Expanse returns to Syfy on February 1st.